Thu, 11 April 2019 at 12:49 pm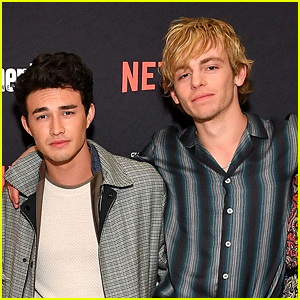 We think it's fair to say that Gavin Leatherwood and Ross Lynch are the true romance of Chilling Adventures of Sabrina.
In a few recent interviews, Gavin, 24, opened up about his bond with Ross, 23.
"Truly, I can't say enough good things about Ross," he shared with Gruemonkey. "That [in "Witching Hour"] was the first time he and I had a one on one scene together. It was such a quick yet memorable day filled with lots of laughter."
He added that they "were definitely friends before, but that day solidified a tight bond between us."
Gavin told Refinery29 more about the scene, where he actually broke character many times.
"Every time, for some reason, the look in Ross' eyes and how serious we were [made me crack up]," Gavin says. "It was this really dramatic, crucial moment of like, 'Well, we're totally screwed,' but being so serious, it was just funny…I was like, 'I don't know why it's funny. I'm sorry, I'm not trying to laugh.'"
He continued that he and Ross are "typically laughing and joking around all the time…so, to be so completely serious with him in this very pivotal moment, I just started losing my stuff."
Like Just Jared Jr. on FB