Thu, 16 May 2019 at 10:56 am
Let's get real here – if you haven't heard about the Georgia and Alabama passing an abortion bill this week, then you might live under a rock.
The bill, which was signed by the Alabama governor, makes almost all abortions illegal within the state.
Many celebs that you probably follow on social media are speaking out about the bill, including Troian Bellisario, who revealed her character on Pretty Little Liars, actually had an abortion storyline in season 6B.
If you remember, it was revealed that during the five year time jump, Spencer and Toby had a pregnancy scare.
Taking to her Instagram Stories, she opened up about the storyline on the Freeform show.
"When we originally shot the episode, we shot TWO versions of the storyline," she writes. "One where Spencer said she WAS pregnant (and therefore had the abortion) and one where she said 'I wasn't pregnant but I would never judge someone for making that choice', and I will be honest, I have n idea ultimately who made the decision to choose the later stoyeline for the finale edit of the episode, but I agree with and was proud to portray both. You know why?"
"Because the choice should belong to the woman," Troian concluded.
Read the rest of her statement on the matter: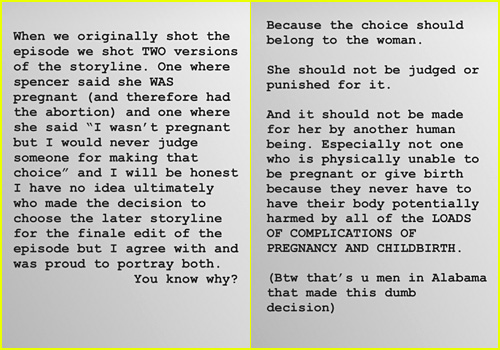 Like Just Jared Jr. on FB