Sat, 08 June 2019 at 11:28 am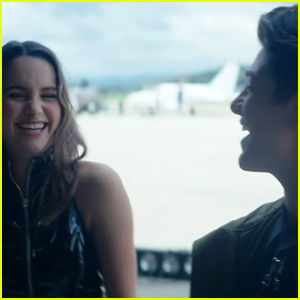 Asher Angel says it was hard for him and girlfriend Annie LeBlanc to get anything done while filming his new video for "One Thought Away!"
The Shazam! actor and the "Two Sides" singer star together in the visual, which was released on Thursday (June 6).
"The vision I had in my head like, I'm about to get on this plane and I'm in a dream sequence and I'm over there, my girl's over there and I miss her," Asher told ET. "Just one thought away, I could just take a plane to get to her, a car, you know, always wanna be with her."
"She's just so nice, and she always makes me laugh when she's on set," he continued. "It's kind of hard for us to [work], like, everything takes longer because we can't stop making each other laugh. That's probably my favorite part. And then we end up being really behind and we have to catch up."
"She thought it was really cool and she was really happy with the way it turned out," he added.
Asher Angel also shared, "I got to work with Wiz Khalifa. I've listened to Wiz's music, like, ever since I can remember. So, like, getting him on this track was, like, a dream come true. And actually getting to meet him? Wow. Crazy."
"Of course, it's a long shot, but somehow it happened," he added. "[One of the producers] went out of the studio… and he came back, he had Wiz on the phone and Wiz got the song two days later, he loved it, and a week later it was released. And a couple of weeks later, the music video was shot, now it's released, so it's crazy. That's how it happened. That's the story."
Check out Asher Angel's "One Thought Away" music video right here!
Like Just Jared Jr. on FB