Wed, 19 June 2019 at 4:32 pm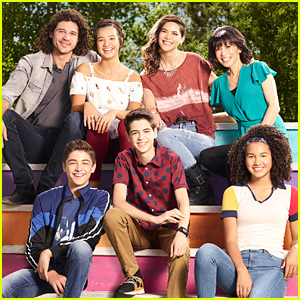 Andi Mack's final episodes are coming up soon and some of the cast is opening up about what to expect.
Stars Peyton Elizabeth Lee, Lilan Bowden, and Joshua Rush dished that storylines will come to a close, and they also reflected back on working on such an impactful show.
"There are so many wonderful storylines that wrap up in such a beautiful way—and I'm talking visually as well as emotionally," Lilan told D23. "So, I can't wait for fans to experience that."
"I'm excited for fans to get to imagine a future for the characters," Joshua added. "The way the show ends is really wonderful in that Cyrus, Andi, Buffy, Jonah, Bex, and Cece are going to keep living in their own world. I'm really excited for fans to see that."
Peyton was thankful for the different representations featured on the program. "I think it's really important that everyone is represented in the media," she said. "Seeing someone who looks like you or someone you connect with onscreen is very important."
"Being able to play this gay character has been absolutely incredible. It's something a lot of older people did not have when they were growing up," Joshua added. "And for these kids out there who are just having that realization in their own minds and are maybe internalizing it, I'm excited to give them an opportunity to see themselves portrayed. The other side of it is Cyrus being a Jewish character—a strong Jewish character. Because for me, when I grew up, Passover, or Pesach, was 'Jewish Easter,' and Chanukah was 'Jewish Christmas.' And it's great to have a character out there who shows that Judaism is its own thing and that we are our own people."
"It's wonderful to be on a show that normalizes so many things we don't see a lot of represented in the media," Lilan chimed in. "We have the gay storyline, we have an Asian American family on TV, and the show is led by the three female characters. And on top of that, we have learning disabilities, we have a deaf character… Bex is a teen mom! For us to show so many different kinds of issues that real children and families face is so meaningful, because I can tell when I talk to our fans that it means everything to see themselves represented on TV."
Andi Mack begins airing it's final episodes THIS Friday (June 21) with the series finale set for July 26th.
Like Just Jared Jr. on FB