Tue, 03 November 2009 at 6:30 pm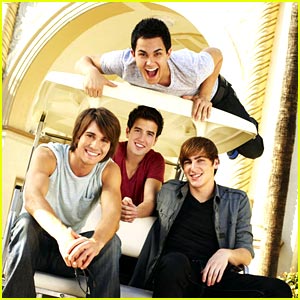 Meet Carlos Pena, James Maslow, Logan Henderson and Kendall Schmidt — the stars of Nick's Big Time Rush!
In a special preview of Big Time Rush, 16-year-old Kendall, is inadvertently discovered by eccentric record executive Gustavo Rocque (Stephen Glickman) during a nationwide casting call and must choose between staying home in Minneapolis with his friends and pursuing a singing career in Hollywood.
Not seeing himself as a solo act, Kendall strikes a deal with the Hollywood image-maker and agrees to undergo "pop group 101″ training in exchange for giving his best friends — James, Logan and Carlos — the opportunity to be in a music group with him. The boys travel with Kendall's mom (Challen Cates) and younger sister (Ciara Bravo) from the snowy Midwest to sunny Los Angeles, where they move into the Palm Woods, a swanky temporary housing development where entertainment companies house their budding new talent.
But the boys soon learn that life in Hollywood is not all about hanging at the pool and attending late-night parties: they quickly realize they have a very short window to prove to themselves and their record label that they are serious about their new career choice.
The special one-hour preview of Big Time Rush will premiere on Saturday, November 28 @ 8:30PM ET/PT. Also starring Erin Sanders, Big Time Rush is set to premiere in early 2010 on Nickelodeon.
Like Just Jared Jr. on FB