Sun, 15 November 2009 at 6:06 pm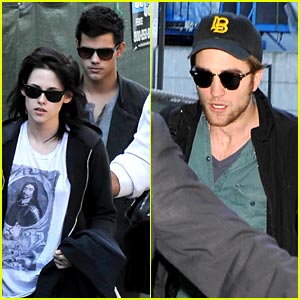 Twi-fecta Kristen Stewart, Taylor Lautner and Robert Pattinson make their way through LAX airport as they arrive in Los Angeles on Sunday afternoon (November 15).
The trio just returned from a worldwide tour of New Moon promo stops in Europe, their latest being Munich, Germany.
Kristen recently dished to The Miami Herald about how she interviews now versus to before Twilight. She shared, "I think I've gotten a lot more comfortable with talking about myself. I couldn't finish a sentence because I was so concerned about how it was going to sound and I didn't want to come across insincere about something that I really love to do. I realized that instead or refraining from saying things, I should have said 'I put my heart and soul into this thing and I love it' instead of the really logical, over-analytical reason why I love it."
Are you ready for the premiere TOMORROW NIGHT?
Like Just Jared Jr. on FB