Mon, 23 November 2009 at 10:20 pm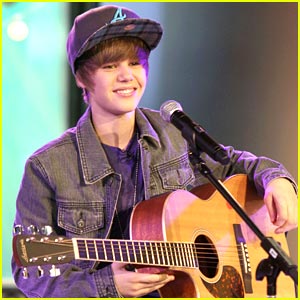 Seems like breaking your foot is the cool thing to do.
Justin Bieber broke his foot on stage while performing his hit single, "One Time," tonight at Wembley Arena in London.
The 15-year-old singer tweeted en route to the hospital, saying, "Just got home from a wild night. I see alot of you are wondering what happened. Well I had a great show in front of a great crowd and in the last song ONE TIME, I tripped over something on stage coming down the ramp and felt my ankle roll in a very bad way. Turns out I fractured my foot and had to finish the song on a broken foot."
Justin continued, "After I was done, I was in such pain that I skipped the encore and got off stage and back to see the medics. @taylorswift13 came backstage to see me b4 [sic] I went to the hospital because she is awesome! spent the rest of the nt in the hospital getting xrays and now a cast. Sucks. But don't worry Manchester, me and @taylorswift13 = the show must go on!!"
Eek! Get well soon, Justin!
Like Just Jared Jr. on FB