Mon, 01 February 2010 at 8:30 pm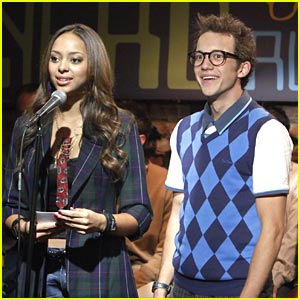 Jacob Zachar looks a little frazzled as he stands on the auction block with Amber Stevens in this new still from Greek.
In tonight's episode "Pride & Punishment," The ZBZ's are still on edge when they hear their candle is responsible for the Gamma Psi fire and Casey (Spencer Grammer) cracks under the guilt, putting the ZBZ house in jeopardy!
Hoping to boost morale and her marketing major, Ashleigh (Stevens) enlists Rusty (Zachar) and Dale (Clark Duke) in a philanthropic "Geek Auction," but it is up to Casey to play dirty to save the ZBZ's, their house, and their Greek rank.
"Pride & Punishment" premieres TONIGHT @ 10PM ET/PT on ABC Family.
Like Just Jared Jr. on FB