Wed, 31 March 2010 at 9:45 am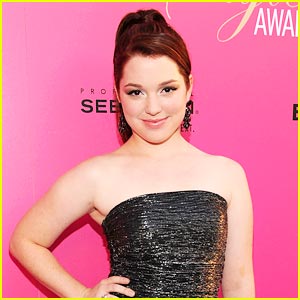 Jennifer Stone has captured our hearts as not only Harper on Wizards of Waverly Place but as Harriet in her new DCOM, Harriet The Spy Blog Wars.
Which is why the 17-year-old actress is this week's Girl 2 Watch. Check out some of the interesting bits of her interview:
On her 'Year of No Fear': "I made a video called '2010, The Year of No Fear' about how I have this phobia of singing in public and singing for people. So I made a video of me singing that other people would see and I said, 'Hey, this is me conquering my fears. Why don't you go out there and try to conquer one of yours?' It was like a challenge to help us all grow."
On her friendship with her costars: "Selena [Gomez] is great. She's become one of my best friends and we have a very good working relationship as well as off screen. She's just a very, very sweet girl. David [Henrie]'s been in the business for a long time and he's an old pro and he knows what he's doing. He's got a great sense of humor so I like laughing with David. It's always fun."
On going to-and-from Texas to California: "I would travel and then the other six months I'd do back in Texas. And then we officially got here when I was 13.I went to normal school up until fifth grade and then it just got too difficult to regular school, so my parents did their research on homeschool programs. They found a program and I've been on it ever since. I feel like I've been blessed with so many opportunities that kids that go to high school don't get, that I feel it's a fair trade."
Find out more about Jennifer at Girl2Watch.com.
Like Just Jared Jr. on FB