Sat, 03 April 2010 at 9:15 pm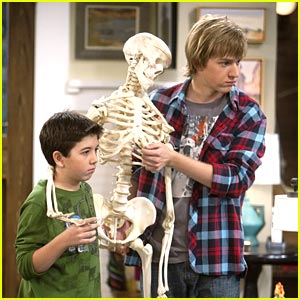 There's just one day left until Good Luck Charlie premieres on Disney Channel.
Jason Dolley caught up with JustJaredJr.com to chat about his lovely costar Bridgit Mendler, if he's thinking about branching into music and the GLC theme days. Check it:
On working with Bridgit Mendler: "Bridgit is really, really friendly. Her room is like the hangout room for everyone that works on the show. Everyone is always in her room, especially at lunch. She sets the tone for the set — she's outgoing, super friendly and I love that [about her]."
On his favorite theme day: "We have lots of traditions, like theme days. Once a week, we'll have like cape day, hat day, robe day. My favorite is cape day, which was our first 'theme.' It was born out of coincidence actually. Bridgit, myself and another friend had gone to Six Flags over the weekend and we played this carnival game where we got capes. We decided to wear them to set as a joke and everyone had looked at us like, 'We didn't know it was Cape Day.' After that, everyone got really into it and it was really cool because one, we got to wear capes all day and two, it spawned the theme day tradition."
On possibly branching into music like his Disney Channel peers: "Not really. It's not really my passion. I do play guitar and piano and I love music in general but my passion is acting. It's not something that really intrigues me; acting is my primary focus."
Stay tuned for more of Jason and remember to tune into Good Luck Charlie which premieres TOMORROW, Sunday, April 4th @ 8:30PM ET/PT on Disney Channel.
Like Just Jared Jr. on FB