Sat, 24 July 2010 at 9:30 pm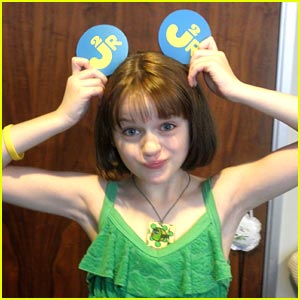 Joey King has some fun with the JJJ coasters after our interview with her earlier this month.
The 10-year-old actress tells us what it was really like meeting both Selena Gomez and Hutch Dano for the first time, what's coming up next, and her huge obsession with Lady Gaga. Check it out:
On her reaction meeting Selena: "I wasn't star struck by her because she's a person too. My mom always reminds me that any celebrity, those people are just like you and they started off just like you. I wasn't really like, "Oh my gosh! It's Selena Gomez!" I think we really hit it off the first time we met. [Hutch is] very nice to work with. Working with him and Selena was really fun. I had a good time with both of them.
On being Lady Gaga's biggest Little Monster: "But I am a humongous fan of Lady Gaga. I love her outfits! I like her because of her outfits! (laughs) And she's really cool! I love her songs and I love her outfits, of course, and sometimes I'm like, 'I want that. I want those sunglasses. I want that wig.' I'm her biggest little monster cause she calls her fans her little monsters. If I ever meet her I'll be like, 'Lady Gaga I'm your biggest little monster!'"
On her next projects: "Battle: Los Angeles; I just filmed not too long ago. I filmed in Louisiana. First, I started at Shreveport then I went into Baton Rouge and it was really fun filming there. There's tons of bugs there and so big! I was scared because we were there in hurricane season but it was fun filming there. Battle: Los Angeles is about an invasion, alien attacking and I had a great time filming and that comes out in 2011 cause it's a Sci-Fi movie and I'm filming one right now. It's not titled yet but it's with Steve Carrell, Julianne Moore, Ryan Gosling, Emma Stone and Jonah Bobo."
HAVE YOU SEEN RAMONA AND BEEZUS YET?
Like Just Jared Jr. on FB