Mon, 26 July 2010 at 1:30 pm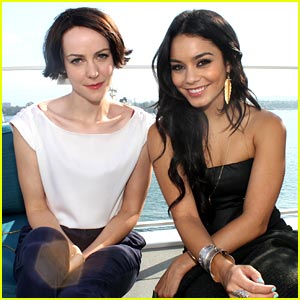 Vanessa Hudgens and costar Jena Malone pretty up the view as they pose for a few pictures for JustJaredJr.com at the 2010 Comic-Con in San Diego over the weekend.
The 21-year-old actress chatted with JJJ exclusively about her character Blondie and what you can really expect from Sucker Punch. Check it:
On just who her character, Blondie, is: "I really did enjoy [the machine guns] and hope to continue to do. She is a patient in the mental institute and is kinda a follower you know, she's just trying to get by and really plays out I think the vulnerability and the one that's a bit more timid to the whole plan of escape.
On what the whole process of the film was for her: "Amazing, I wouldn't trade it for anything in the world. It's so much fun, it's almost like therapy and to blow off some steam I go and shoot my saw. It's exhilarating its such an adrenaline rush its unlike anything I've ever done."
Stay tuned to JJJ for more on Vanessa and Sucker Punch!
Like Just Jared Jr. on FB