Thu, 09 December 2010 at 8:30 am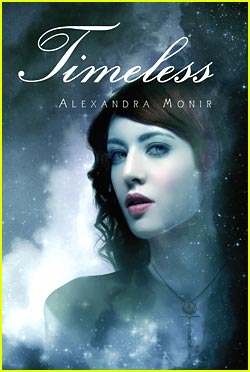 JJJ loves books and we just discovered Alexandra Monir's "Timeless."
"Timeless" summary: When tragedy strikes Michele Windsor's world, she is forced to uproot her life and move across the country to New York City, to live with the wealthy, aristocratic grandparents she's never met. In their old Fifth Avenue mansion filled with a century's worth of family secrets, Michele discovers a diary that hurtles her back in time to the year 1910. There, in the midst of the glamorous Gilded Age, Michele meets the young man with striking blue eyes who has haunted her dreams all her life — a man she always wished was real, but never imagined could actually exist. And she finds herself falling for him, into an otherworldly, time-crossed romance.
Michele is soon leading a double life, struggling to balance her contemporary high school world with her escapes into the past. But when she stumbles upon a terrible discovery, she is propelled on a race through history to save the boy she loves — a quest that will determine the fate of both of their lives.
Author Alexandra is also a singer/songwriter and wrote two original songs that appear in the book. The songs will be released as digital downloads FREE for all readers who buy the book. Cool, right?
Check out a behind-the-scenes vid about the book and pick up a copy of "Timeless" — on shelves on January 11, 2011!


Alexandra Monir: Behind "Timeless"
Like Just Jared Jr. on FB