Sat, 01 January 2011 at 8:30 pm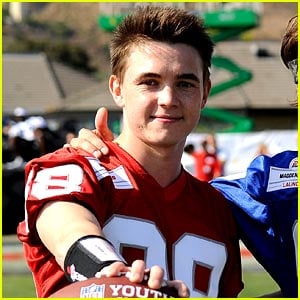 The Super Bowl is less than a month away and although Jesse McCartney isn't getting his dream match, he's still hoping for it one day.
The 23-year-old musician stopped by to chat with ESPN on his love for sports and revealed his fantasy football match: Giants vs. Jets.
Jesse explains, "[Laughs] I'm a Giants fan through and through. I am crazy about Eli Manning. I'm all about the Giants. What I said was that I'd love to see a Giants-Jets Super Bowl. That would make my life. I was talking to my dad about it; he said that if he could see that in his lifetime, he'd never need another football game. That would be a dream come true. So I'm always rooting for that dream to become a reality. I'm hoping I can take my dad to the perfect Super Bowl in Dallas this year."
He continued, "There is a chance. The Jets are a great team. I told you, I love my Eli Manning, but I think that [Mark] Sanchez is soon to be the next money-making face of the league as the veteran quarterbacks retire. He'll get his ring eventually, and he's off to an amazing start. Giants versus Jets Super Bowl. I'm telling you, that's all I want to see."
WHAT IS YOUR DREAM Super Bowl?
Like Just Jared Jr. on FB