Sun, 23 January 2011 at 10:30 am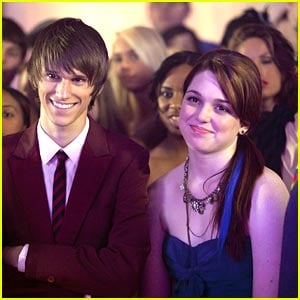 Jennifer Stone gets a little edgy with a blue streak in her hair in this still for Mean Girls 2.
The 17-year-old actress chatted with JJJ recently about the film, bullying, and how you really should compare the Mean Girls movies. Check it:
On comparing the two movies: "I really think they are two different movies. Mean Girls was such a groundbreaking and had an impact on that generation. We just really wanted to build on that legacy and do a Mean Girls for this generation."
On real girls being bullied right now: "Just know that it's not you, it's their problem. It's temporary and it does get better. You can't lower yourself to their level."
On her own creativity gene: "I like to be creative in a lot of different areas. I paint, I write…but I pretty much keep those to myself for the most part. It's my thing for me, and not really for anyone else."
On having a new love interest in the movie: "Love interests are always fun. You get to goof around with them and sometimes it's awkward. Colin [Dennard], who plays Elliot, is a such a great guy. I love Harper and Zeke [from Wizards], they're really quirky, but Abby and Elliott are sweet too."
On her favorite scenes in the movie: "There's not really one particular one, but there's a sequence where I'm getting a lot of food in the face. That was actually pretty fun."
On how she prepared for a 'breakup' scene between Abby and Jo: "I thought of Abby, and here's this girl who didn't really have any friends and then she figures that maybe her luck is changing and has found someone who gets her. There's someone who actually understands her and to find out that this friend was paid, has to be one of the most heartbreaking and disheartening things to find out. I really thought about how it would feel for someone who's been isolated like that to experience."
Mean Girls 2 premieres TONIGHT @ 8PM ET/PT on ABC Family!
Like Just Jared Jr. on FB
Credit: Bob Mahoney, Bob DAmico; Photos: ABC Family
Posted to:
Jennifer Stone