Sat, 28 January 2012 at 4:30 pm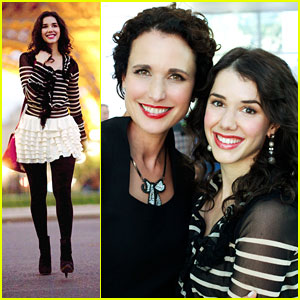 Erica Dasher strolls the streets of Paris, France in these new stills from Jane By Design.
In the upcoming episode "The Lookbook," Jane (Dasher) is over-the-moon with anticipation when Gray (Andie MacDowell) tells her she will be boarding a flight to Paris the following night to bring her the coveted Donovan Decker Lookbook, which holds all the secrets, inspirations and ideas for the fashion company.
When Jane is tasked with secretly securing the Lookbook until she leaves, she will do anything to hold onto it and make the flight to Paris, even if that means she has to turn to her nemesis and best friend's girlfriend, Lulu (Meagan Tandy) for help.
Meanwhile, Billy's (Nick Roux) brother Tommy (Rob Mayes), has a new criminal scheme that he wants Billy to help him with.
"The Lookbook" premieres Tuesday, January 31st @ 9PM ET/PT on ABC Family. 25+ stills inside…
Like Just Jared Jr. on FB