Fri, 13 April 2012 at 8:30 pm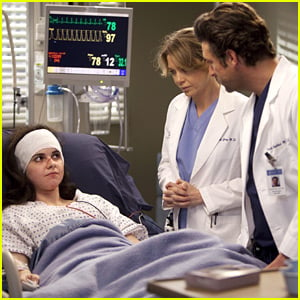 Vanessa Marano has a talk with Patrick Dempsey and Ellen Pompeo in this new still from Grey's Anatomy.
The 18-year-old actress comes in as a Jane Doe in the upcoming episode before being discovered as Holly Weeler, the subject of a kidnapping case that has gained interest across the country.
"She's found in the woods just destroyed and completely messed up," Vanessa dished to THR about her character. "As the episode progresses, [the doctors] find out that there's more to Holly than meets the eye in the sense that what she's admitted for is not truly what is the issue with her: there's a lot of psychological, damaged, torturedness to her. It's a little Law & Order: SVU."
Vanessa adds, "I'm portraying someone who has been through that situation or at least a very similar situation and I still can't wrap my head around what they must feel," after watching interviews with both Jaycee Dugard and Elizabeth Smart, who were both abducted from their homes and found.
"The Girl with No Name" airs Thursday, April 19th @ 9PM ET/PT on ABC.
Like Just Jared Jr. on FB