Fri, 01 June 2012 at 6:30 pm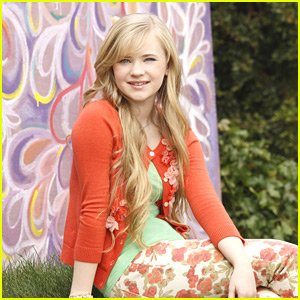 A.N.T. Farm is back with new shows starting TONIGHT on Disney Channel!
JJJ recently hopped on the phone with actress Sierra McCormick to find out all about the new season, her audition and casting Olive's parents. Check it:
JJJ: Is it true that you continually talked about tigers in your audition and it actually helped you get the part of Olive?
Sierra McCormick: Actually, I guess that is true. I am not even sure why I did that but it worked! I love watching Animal Planet and Discovery Channel. I guess I am a little bit like my character Olive in that we both like "interesting factoids." Mine just happened to be tigers that day.
JJJ: Do you have a favorite episode from this upcoming season so far?
SM: There are a couple of upcoming episodes that were so much fun shooting but I would have to say the season 2 Halloween episode is my favorite so far. Of course I have been sworn to secrecy so I can't give any details. So you will just have to tune in and see….a lot of Olive.
JJJ: If A.N.T. Farm could cross over with any Disney Channel program, which one would you want it to be?
SM: Lab Rats! I love the entire cast. The characters on Lab Rats have superhuman talents so they would fit right into the A.N.T. program.
JJJ: Who'd be your dream guest-star on your show and what would they play?
SM: Andy Samberg! I love him! He would be great as my dad. His wacky sense of humor would fit right in with Olive's.
The season two premiere of A.N.T. Farm happens tonight @ 8PM ET/PT on Disney Channel.
Like Just Jared Jr. on FB