Sun, 23 September 2012 at 8:30 am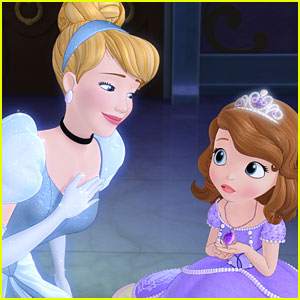 Check out the exclusive trailer debut of the upcoming Sofia the First: Once Upon A Princess.
Set in the storybook world of Enchancia, the movie introduces Sofia, an average girl whose life suddenly transforms when her mother marries the king and she becomes a princess. She must learn to navigate the extraordinary life of royalty while holding on to her own hopes and dreams. Her journey to being the best she can be also paves the way for those around her to realize how special they each are.
Sofia's royal adventure begins as she prepares to move into the castle with her mom, starting a new family with her step-father, King Roland II, and step-siblings, Amber and James. Helping Sofia in her journey are the three headmistresses of Royal Prep Academy – Fauna, Flora and Merryweather and royal steward, Baileywick, as well as a group of cute woodland creatures led by a wise-talking rabbit, Clover.
Sofia the First: Once Upon A Princess will premiere Sunday, November 18th @7PM ET/PT on Disney Channel and on Thursday, November 22nd @ 9AM ET/PT on Disney Junior.


"Sofia The First" Trailer Debut
Like Just Jared Jr. on FB