Fri, 02 November 2012 at 5:30 pm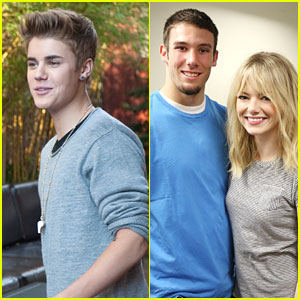 Emma Stone and Justin Bieber are just two of the mentors for the 2012 Halo Awards.
Alongside Tyra Banks, Josh Duhamel and creator Nick Cannon, they'll recognize a new wave of real-life teens who are "Helping and Leading Others" (HALO).
Each TeenNick HALO Award honoree was surprised by a visit from Nick, awarded a grant for their organization and given an once-in-a-lifetime opportunity to meet and connect with a celebrity who shares a similar passion for their cause.
The award ceremony will be taped live from the Hollywood Palladium in Los Angeles, on Saturday, November 17th and premiere Monday, November 19th @ 8PM ET/PT on Nick at Nite. The 90-minute special will feature musical performances by Ne-Yo and Neon Trees, celebrity presenters and special surprises.
Learn about this year's honorees inside…
Allyson Ahlstrom, 17, Santa Rosa, Calif. (paired with Tyra) – A bubbly and fashion forward self-starter, Allyson Ahlstrom was inspired to combine her love of fashion and community service to create Threads for Teens, an organization that collects and distributes clothing to disadvantaged (low income, foster care, etc.) teen girls. She provides one-on-one support to every one of the girls as they shop, bonding over fashion, talking about their lives and sharing motivational advice. In just two years Ahlstrom moved her organization into a fashionable pink boutique, raised over $130,000 in product donations and outfitted over 200 girls.
Matt Ferguson, 18, Hillsboro, Ore. (paired with Emma) – Matt Ferguson was inspired to start Matt's Chemo Bags after finding out his mom had been diagnosed with invasive breast cancer. He began building bags of essential items (lotion, tissues, warm socks, a handmade blanket, a lap pillow, notebook) to distribute to women suffering from breast cancer in hopes that it would bring them the same comfort that a similar bag brought his own mother as she went through chemotherapy. His organization now services all of Oregon, Southwest Washington, and Northern California and has distributed over 7,500 bags.
Kylie Lan Tumiatti, 16, West Melbourne, Fla. (paired with Justin) – Kylie Lan Tumiatti developed a passion for giving back to the community early on, after watching her younger sister struggle with learning English. Tumiatti decided to help others who faced similar obstacles and partnered with Operation Hope Florida, a non-profit facility that provides prekindergarten classes to children of migrant workers. Together they implemented a literacy program that enhances the language skills of young children while simultaneously instilling a love of stories and books.
Taylor Waters, 19, Sanford, N.C. (paired with Josh) — A compassionate leader and aspiring teacher, Taylor Waters belief in giving back to her community stems from her personal experiences with disaster. She continues to encourage youth involvement through her hometown American Red Cross and she is establishing her own Red Cross Club at East Carolina University.
Like Just Jared Jr. on FB