Fri, 02 November 2012 at 2:30 pm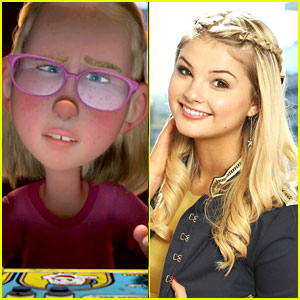 Stefanie Scott has a dilemma — she needs a Sugar Rush name!
JJJ recently sat down with the 15-year-old actress, who voices Moppet Girl in the new movie Wreck-It Ralph, and figured out that while she has her cart and what her avatar looks like, she doesn't have a name!
Check out our exclusive interview below and tell us what you think Stefanie's Sugar Rush name should be:
On her character Moppet Girl: "Moppet Girl is the first person to notice that Wreck-It Ralph is missing in the movie which is really important because without him, Fix-It Felix, Jr. can't fix anything. That's where she takes place. She's more on the wallflower side, a pretty quiet girl. She's got a cute gap in her teeth and glasses. It makes her adorable. She's a pretty hard core gamer for a 12-year-old. She's playing the 8-bit games."
On the video game she'd love to play: "I would go straight for the Sugar Rush game. It looks like such a fun game. It's a complete candy dream land. They have chocolate swamps and peppermint trees; they have cotton candy forests. I would love to live there. Everything is made out of candy, how could you not want to live there?"
On what her Sugar Rush cart would be: "I love Vanellope's car and how it was mish-mashed with everything. I would have it so it had a top full of frosting and peanut butter…I would draw all over it in cool candy letters. I'd have to come up with a really good name too…Vanellope Von Schweetz is a cool name and Taffyta…I have to think on this. I love all the names the avatars have. I heard that when they [the filmmakers] were making the movie, they went to Germany just to get the candy names. She would have crazy blonde, curly hair and my whole outfit would be candy. Lots of color, gumdrops and sparkly glitter candy. Can I be Glitter Candy Girl, or something like that? (laughs)."
On her favorite scene in the movie: "Probably the villain support group scene. I thought it was so funny with the zombie and then when the ghost started blinking. My favorite part of the movie."
Wreck-It Ralph is out in theaters NOW!
Like Just Jared Jr. on FB