Thu, 04 April 2013 at 8:30 pm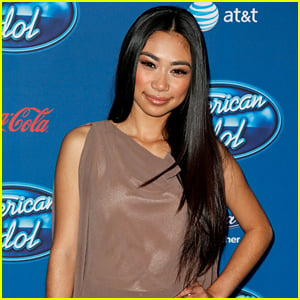 Check out our new interview with the super-talented Jessica Sanchez!
The 17-year-old singer recently released her first single "Tonight," featuring Ne-Yo and is gearing up to drop her debut album You, Me & the Music on April 30th!
Oh, and did we mention she was just cast in a two-episode arc on Glee? Mark your calendars – her episodes air May 2nd and 9th!
JJJ caught up with Jessica to chat about music, acting, and her American Idol roots.
Click inside to read our interview with Jessica Sanchez…
Jessica Sanchez – JustJaredJr.com Interview
JustJaredJr.com: Let's start with your single. We really like it. What was it like working with Ne-Yo?
Jessica Sanchez: It was amazing. The music video came out great. He's so much fun. He's so down to earth. And then the Idol performance, he felt my nerves on the stage, so he was giving me tips and he is so nice.
JJJ: How was it being back on that stage? Was it weird?
JS: It was weird. It was really weird. But, it was more exciting than anything else because I wasn't going to be judged. I was like a new person, I was debuting my single. So everything was a big plus. I didn't have to stress about anything.
JJJ: So once you got back on stage, you were confident? The nerves went away?
JS: Definitely! Once I was on stage and the music started, I was ready to go!
JJJ: Have you been able to watch any of the episodes this year yet?
JS: A little bit. I love all the talent on there this year. I'm rooting for every single one of them. They're all amazing.
JJJ: Do you get to run into your Idol friends from last year at all?
JS: Definitely. I definitely hang out with them. I was with a couple of them yesterday.
JJJ: Are you planning to go on tour anytime soon?
JS: Hopefully! Hopefully soon.
JJJ: What can you tell us about your album? Is the sound going to be like "Tonight" or will there be ballads? What can we expect?
JS: There are a couple ballads. It's more of like a dance-y, club-y, kind of R&B/Urban kind of thing. Pop a little bit. So there's definitely a little bit of everything in there, so I'm really excited for everybody to hear it. I can't wait.
JJJ: Who are your biggest influences?
JS: Maybe like Beyonce and Etta James and Whitney Houston. I love those kind of artists.
JJJ: We saw you tweeted that you are taking acting classes. How are they going?
JS: They're going great! My acting instructor said the other day that I'm totally ready for Glee so I can't wait.
JJJ: What was it like getting the news that you're going to be on Glee?
JS: It was amazing! I never thought that the opportunity would ever come my way, so I just feel blessed for the opportunity.
JJJ: Do you know what songs you'll be getting to sing yet?
JS: I'm not allowed to say, but I'm not even sure myself yet. So, we'll find out soon!
JJJ: We know they said you'll be playing a diva character. Will that be fun for you because you seem more of a conservative and shy person?
JS: They said I'm going to be a diva, powerhouse singer, but more like the sweet type. And I guess that's more true to me. I'm not really like the mean girl, so it's going to be easier on me.
JJJ: Have you met any of the cast before?
JS: I met a couple of them at The Trevor Project, but not the whole cast and I'm really excited to meet all of them.
JJJ: Are you a fan of the show? Have you watched it before?
JS: Yeah, I've been trying to catch up on it lately because I've been so busy, but I love the show. I really can't wait to be a part of it.
JJJ: Who would you say is your favorite character?
JS: I'd say Lea Michele [Rachel Berry]. I love her character and I love the person that she plays and everything that she has accomplished in the show.
JJJ: Do you think after this you'll want to do more acting.
JS: I would love to! I mean, it's something I've always wanted to do and now that I have the opportunity, maybe I can really get into it.
JJJ: For your music video and for the album, who came up with the concept and the direction of the sound?
JS: Me! Of course, me. I've always wanted to do this genre of music and I'm happy I got the opportunity to do it.
JJJ: Are you nervous or excited for your debut album to be released?
JS: Of course, I'm nervous. I'm trying to be excited and happy that you know, I got this opportunity. I'm really more excited than anything.
JJJ: If you could go on tour with anybody, who would you go on tour with?
JS: I mean anybody. I would love to go on tour with Ne-Yo because he has been so sweet and amazing to me.
JJJ: For the people that aren't familiar with you and haven't watched American Idol, what would you tell them about your album and your music?
JS: It's more of an urban, pop, and R&B kind of feel. Before Idol, I did a lot of covers on YouTube so some people know me and are familiar with that.
Don't forget to pick up Jessica's album Me, You & the Music when it hits iTunes April 30th!
Like Just Jared Jr. on FB