Wed, 24 April 2013 at 8:00 pm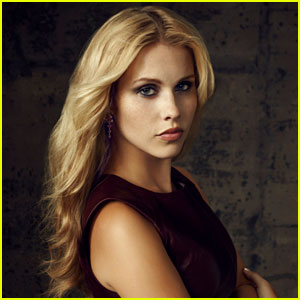 Claire Holt opens up about The Vampire Diaries and its potential spin-off The Originals in this brand new interview!
The 24-year-old Australian actress plays Rebekah, an Original vampire who's vying for a normal human experience, amidst all the evil her hybrid brother Klaus (Joseph Morgan) has brought upon Mystic Falls.
JJJ caught up with Claire to get the scoop on what we can expect in tomorrow night's backdoor pilot! She also dished on Stebekah, the cure, and her favorite scenes to film!
Click inside to read our interview with Claire Holt…
Claire Holt – JustJaredJr.com Interview
JustJaredJr.com: Rebekah has really grown on us over these past two seasons. She's probably the most relateable character on the show right now. Have you noticed any difference in the feedback you get?
Claire Holt: The fans have always been really loyal to Rebekah, I think, whether she's the mean girl or the nice girl. There's always a fan base for both. But I'm had such great support and definitely felt the love all throughout my journey on the show, but especially recently with the new spin-off and the potential for a new show.
JJJ: Right now, she's very intent on getting that cure to become human again. How do you think human Rebekah would compare to vampire Rebekah? Are her expectations too high?
CH: I don't know if Rebekah would do so well as a human, to be fair. I think she's become very used to the benefits of being a vampire and the privileges of being a vampire. I think she's in love with the idea of being a human, but in reality, I'm not so sure it would work out so well for her.
JJJ: Agreed. Her brother Klaus always seems to stab her in the back and never feels guilty about it! But we've seen him be vulnerable and forgiving where Caroline is concerned. Do you think at some point we'll see him extend that to his sister?
CH: I hope so, because I love the relationship they had when Rebekah first came to Mystic Falls. I love the dynamic they had. I think there's still a lot of story to tell there. I hope that after this journey to New Orleans, he feels a little more loyal toward his family and they can work on their relationship. And maybe he can apologize for betraying her so many times.
JJJ: We get a glimpse of Rebekah in the promo, but we don't know why she goes to New Orleans with her brothers, especially given how Klaus has treated her. What can you tell us about her journey there?
CH: In this episode, Rebekah is still in Mystic Falls and Elijah is trying to convince her to come to New Orleans, so it's all about the decision that she makes, whether she feels that she's going to remain loyal and follow her brothers, and stay true to her family and her beliefs, or whether she's going to lead her own life. I think that's the decision she has to make in this episode. She really loves [Elijah] and respects him. I think they have a great dynamic. She trusts him a little more than she trusts Klaus. So if anyone's going to convince her to make it to New Orleans, it's going to be Elijah.
JJJ: Definitely. Rebekah has also been pretty unlucky when it comes to love. Are you hoping she finds someone who actually likes her for her?
CH: I'm hoping Rebekah finds someone, definitely. That's been a huge part of her journey over the last two seasons. Although, I really do like the fact that she gets the dalliance with the many different hunky men in Mystic Falls (laughs). I, as Claire, am not so bothered by it, but I think for Rebekah, it would be nice for her to have someone.
JJJ: Last week, she told Matt that Elena was up to something. Do you think she did that because of Elijah's test or because she genuinely cares for these people now?
CH: I think she's starting to really care about them. I don't know whether that's what she truly wants, but I do think that was genuine and that was really her trying to help out.
JJJ: Rebekah and Matt had some great scenes last week too. It seems like his opinion of her is changing for the better. Are we going to get more scenes with them coming up?
CH: There's going to be a development in their relationship and it's going to start to grow. I think the fans will be happy with the outcome. Whether he falls madly in love with her – the way she thinks she is with him – or not, it remains to be seen. She's definitely going to make some progress.
JJJ: What about Rebekah and Stefan? They hooked up and then it was kind of dropped…
CH: I think that's sort of been put to bed now. They'll always have a history and a chemistry. Whether I'll have more time on screen with Paul Wesley, I'm not really sure that's going to happen in the near future.
JJJ: What about Phoebe Tonkin? You guys are besties in real life, but you've never even had a scene together! Are you excited for the potential in the spin-off?
CH: We haven't! Oh my god, yes! We did our very first show together, grew up together, and learned the ways of world together, so it will be a real joy and a treat to get to work with her again.
JJJ: This season has been pretty crazy. What was your favorite scene to film?
CH: My favorite was the classroom scene, when I tortured them all in the classroom. They sort of set it up as a big play, and it was a really great episode for Rebekah, I think. For me, as an actor, to be trusted with all of that dialogue and all that power in the scenes… that was the most fun, for sure.
Tune into The Originals TOMORROW NIGHT April 25th @ 8PM on The CW!
In case you missed it, check out our recent interview with Joseph Morgan!
Like Just Jared Jr. on FB