Sat, 22 February 2014 at 10:30 am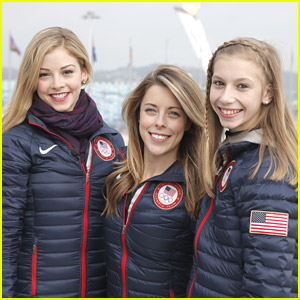 Figure skaters Ashley Wagner, Gracie Gold and Polina Edmunds stop by The Today Show on early Saturday morning (February 22) after competing in the 2014 Sochi Winter Olympics in Sochi, Russia.
The athletes — 22, 18, and 15-years-old, respectively — opened up on the program about the controversy surrounding the scoring system that placed Russia's Adelina Sotnikova over South Korea's Yuna Kim and Italy's Carolina Kostner in the free skate the night before.
"People need to be held accountable," Ashley shared in a interview after the medals had been decided. "They need to get rid of anonymous judging. There are many changes that need to come to this sport if we want a fan base. People don't want to watch a sport where you watch people fall down and somehow score above someone who goes clean. It's confusing and we need to make it clear for people."
Johnny Weir, who placed 6th at the 2010 Vancouver Winter Olympics and is a commentator at Sochi, shared, "That is a big, big number [Adelina's score]. You have to think being in Russia in front of a Russian audience has definitely helped. She (Sotnikova) skated well, I don't know if she was eight points ahead of Carolina Kostner."
Also pictured below: Jason Brown, Kristi Yamaguchi, Paul Wylie, Scott Hamilton, Jeremy Abbott, Alex and Maia Shibutani plus Lindsey Van, Jessica Jerome and Sarah Hendrickson of the USA Skiing Team.
[poll id="261"]
Like Just Jared Jr. on FB