Tue, 11 March 2014 at 10:00 am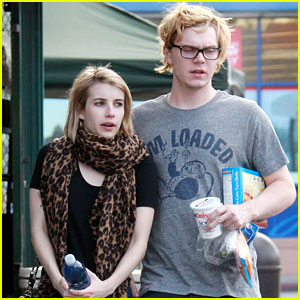 Evan Peters walks alongside his fiance Emma Roberts as they do a little grocery shopping at a local market on Sunday (March 9) in Hollywood.
The 27-year-old actor recently opened up about how he and Emma both had crushes on each other while filming Adult World.
"Well, I had a crush on her, too, and I didn't really know how to approach her or talk to her or any of that stuff," Evan told Vulture. "And at the time I was a more introverted actor, trying to kind of stay into it and stay focused and not talk too much. But, yeah, I tried to talk to her a few times and, I don't know, I kept saying the wrong thing. I was really kind of awkward and stupid and like, Oh God, this is just not working out well. I'm just going to shut up and not talk."
He continued, "I would just try to make jokes, you know? But they weren't going over very well. You know how when you like somebody and then you say things, kind of like a fifth grader? You like the person so you kind of tease them a little bit or you joke around a little bit? Emma didn't get that I was joking so it just kind of came off all wrong."
In case you missed it, watch Emma talk about her crush on Evan!
Like Just Jared Jr. on FB