Mon, 24 March 2014 at 12:00 pm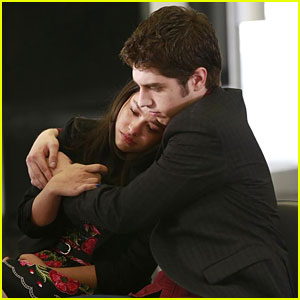 David Lambert gives JJJ some insight on the season one finale of The Fosters in this brand new interview!
The 21-year-old actor stars as the typically-responsible brother Brandon, who's currently in hot water after a whole mess of lies that got him arrested last week.
PHOTOS: Check out the latest pics of David Lambert
He's determined to get Callie (Maia Mitchell) to realize that they're supposed to be together, but with her adoption coming up, it doesn't look too good for these two.
We caught up with David to talk about the future of Brandon and Callie, as well as his trouble with his parents and Vico (Reiley McClendon). Check it!
The Fosters season finale airs TONGIHT @ 9PM on ABC Family!
JustJaredJr: We saw a very different side to Brandon this half of the season. Did you ever expect he would be in the back of cop car?
David Lambert: I definitely didn't see it coming, at least to the extent that it was taken. I maybe hoped that some of that golden boy image would be shaken off, but I wasn't sure what they were going to do n terms of writing, but I loved it. As an actor, it's great to play that kind of arc and it's really fun. For me, it was really cool. I feel as though now, I've gotten to play a good point in his life and a bad point in his life. It actually makes me feel that I know him that much more because of everything that's been happening the past few weeks. And with the finale, it will definitely culminate. He's definitely feeling more the effects of his mistakes. It was great. I was thrilled to be able to play that.
JJJ: He confessed everything to his parents. Are they really mad at him or more worried about the consequences of his lies at this point?
DL: He's definitely in trouble, but I think he knows he's done. Beside that, they are his parents and want him to be OK. It's going to be more of a mode about what to do next, based on the information given. Yeah, he made a lot of mistakes and kept a lot of information from everyone. So of course things would go like this when you're keeping everything bottled up and not dealing with anything the right way. In the finale, we're definitely going to see him face a lot of things and they will be things that stick with him into season two.
Click inside to read the rest of our interview with David Lambert…
JustJaredJr.com Interview – David Lambert
JJJ: Brandon took the fall for Callie and in the process, outed Vico as the person behind the fake ID's. Does this mean the score between them isn't settled yet?
DL: Yeah, we're going to see a bit more Vico. He will be in next week's episode. I don't know that that's completely settled. The whole Vico experience for Brandon was overall a bad move. Vico is completely unreliable and has his own agenda. He lashes out. So when something doesn't go right, it seems like Vico really strikes out. It will be interesting to see what happens between them. Again, it's Brandon having to face all of these predicaments that he's put himself into.
JJJ: With the adoption coming up, will this be the thing that Brandon needs to draw the line? Will he give up?
DL: At this point, he's been put in a situation where he has no other choice. Callie has made up her mind. She wants a family. She needs a family, her and Jude. She knows that a boyfriend or someone like Brandon isn't going to fix all of her problems. To feel whole, she needs family. So it's one of those things…he's kind of forced to sit on it and put it on the back burner. I don't know if anything romantic will happen with them again. It may be a shift in the relationship. At least for now, they are going on their own roads for a bit, and it may cause them realize something along the way. That's one of the toughest things Brandon will have to face and have to continue to face. There will always be a connection between them. They both know that. Maybe it's just tougher for Brandon and he has a harder time handling that. I don't know. That will always be a stubble.
JJJ: When Brandon told Callie he realized she never felt as strongly about him as he did her, was that just for show or did he really believe that?
DL: He was more focused on getting Callie out of that. I think a lot of it was fluff. He mixed it in with truth, but he just wanted to make it as believable as possible for his moms, in that moment at least. I think there was some truth, but he was trying to do what he can for her I supposed.
JJJ: Tell me about "Callie's Song" and how that came about. Were you nervous at all singing?
DL: Yeah, we have a wonderful music director, Brad Hooks, who I've been working with. He writes pretty much all the original music on the show – all the instrumental stuff, a few of the pieces Brandon has played on the piano, including "Callie's Song." He's amazingly talented and I end up meeting with Brad quite a bit to go over all this stuff. It's great and it's a cool set-up. Brad makes it really easy to collaborate and figure out what works for Brandon. I think it's been great so far. I wasn't nervous per se. I just wanted to get across that this whole songwriting thing is a new territory for Brandon. He's not even necessarily sure what he's doing yet with it, but I think it's all byproduct from what he's been feeling. He has to get it out in some way. I really enjoy it. I think it's a really fun element to play. I love music and play piano in my real life, so it's something else to relate to with Brandon.
JJJ: And finally, Mike's alcoholism seems to be under control ever since Brandon moved in. Now that he's at risk when it comes to Anna and the murder, is his sobriety at risk too?
DL: Mike is trying to keep it together, I suppose. He just wants what is best for Brandon and wanted to be closer to him. He thought the apartment would be a good situation. The whole thing was kind of a big trap in a weird way. But yeah, his sobriety will definitely be in question. I think he will always back bounce though. He's a good dad. He gets depressed and goes to drinking. It's a sad situation and it's something Brandon has to deal with, with splitting his time. I think Mike's definitely going to go on a little roller coaster ride soon.
Like Just Jared Jr. on FB