Mon, 31 March 2014 at 12:59 pm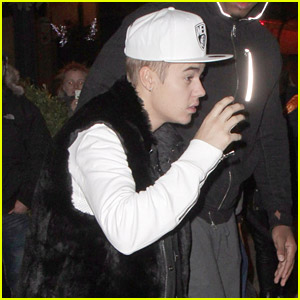 Justin Bieber heads into his hotel after arriving in Toronto, Canada on Sunday night (March 30).
The 20-year-old musician skipped out on the 2014 Juno Music Awards that night, where he won the Juno Fan Choice Award for the fourth year in a row.
Even though Justin wasn't there to accept the award, the audience booed after he was announced as the winner. Music Group and siblings Tegan and Sara, who were at the show, didn't like what the audience did.
"I think that Justin Bieber is actually a very talented artist and I think a lot of people just like to pile on and sort of make fun of him, but we have to remember that he has a mom and a dad and a grandma and a grandpa and he's actually really talented," Tegan shared. "He's been famous since he was a little kid. He's made some mistakes, but God knows Sara and I have made actually way worse mistakes when we were teenagers and we weren't famous."
Justin tweeted in thanks later on, "We won #JUNOFanChoice for the 4th year in a row! Love to all my beliebers. Thank u. Love u."
DO YOU THINK Justin should've won the award?
Like Just Jared Jr. on FB