Tue, 06 May 2014 at 12:30 pm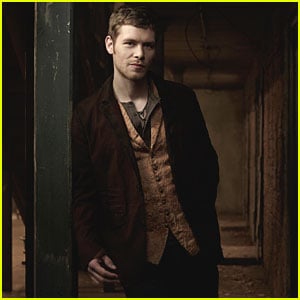 Battle lines will be drawn as the French Quarter erupts in a war of the factions during tonight's episode of The Originals.
We caught up with star Joseph Morgan to chat about everything from the brewing battle and Mikael's (Sebastian Roché) shocking return, to Elijah (Daniel Gillies) and Hayley's (Phoebe Tonkin) kiss and Klaus' protective nature over Cami (Leah Pipes).
Meanwhile, what are the chances Klaus will come out on top with several enemies aiming to kill him and his family? Check it:
The Originals airs TONIGHT @ 8PM on The CW!
JustJaredJr: Let's talk about this big battle coming up. Klaus doesn't look to be in the best position as of right now. Does he have some diabolical plan that we don't know about?
Joseph Morgan: No, I know. It seems like they all have different goals. The wolves want these stones to make these rings to strengthen them. Genevieve and witches have to sacrifice the baby or Genevieve will die if she doesn't sacrifice the baby. Marcel doesn't want to wolves to get the rings, so he's going up against Klaus. There's all sorts of factions in play and then with the great loss of Father Kiernan, and Francesca is making a play for the power now. There are a lot of cross motives at the moment, and it's all going to play out over the next two episodes. In fact, [episodes] 21 and 22 are both action-packed. [Episode] 22 takes place immediately after 21 ends. There's no rest for our characters. Yeah, it's going to be a huge, action-packed and emotionally-charged couple of episodes. I would hope that Klaus has some sort of diabolical plan because let me tell you, he's going to need it.
Click inside to read the rest of our interview with Joseph Morgan…
JustJaredJr.com Interview – Joseph Morgan
JJJ: Because some of the factions have similar goals, is there a chance we'll see people team up?
JM: I think there's always a chance on this show that factions will team up and then subsequently betray each other at some crucial moment, isn't there? Yeah, there's definitely a chance for allegiances to be made and unlikely allegiances. As we saw at the end of [episode] 20 when Mikael makes that proposition to Davina. They are the most unlikely pair I can imagine in the series, and yet that's fascinating to see these two characters together, so I hope that story is explored a little more.
JJJ: He's become more and more protective of Hayley and this baby. Does that mean there's a chance we'll see Klaus put someone else ahead of himself?
JM: I think there's a chance. He's been slowly through the series emotionally coming to terms with the idea of being a father and becoming connected. Seeing Hayley more as party of the family more, I think, and valuing his child, certainly more than in the beginning when the news was brought to him. I think there's potential for him to make some sort of heroic gesture. It feels more like an Elijah thing to do, but there's potential I think.
JJJ: Speaking of Elijah, he and Hayley kissed last week, just as Klaus was seemingly warming up to her a bit. How long will this kiss be kept under wraps or will we see Klaus' reaction sooner than later?
JM: Secrets have a way of coming out, don't they? Like Klaus says, secrets are a poison that need to be spat out. What's the good of a secret in a dramatic show if it's not revealed at some point, causing great distress and drama. But honestly, I don't know. I think if he does find out, he'll be pretty disturbed, yeah, because he's incredibly possessive over his siblings, and Hayley's carrying his child, and the idea that Elijah's sort of usurping his family that he's about to start…The three of them would make a picture perfect family, wouldn't they? Klaus would just get in the way and mess things up for all of them. They would be better off without him, so yeah, I think he would feel threatened by that.
JJJ: Elijah and Klaus are also at a point where they are finally on the same side of things, at least for now. Will the Hayley and Elijah relationship throw a wrench into that brotherly bond?
JM: Yeah, it's nice to see the brothers allies though, isn't it? I really love that, when we see them being a little more brotherly, and supporting each other. I think there's room for more of that in the show. I'd love to see more of that.
JJJ: In the finale description, it says Cami joins forces with Davina to take down Klaus. What can you say about Cami and Klaus' relationship in these last few episodes?
JM: She's capable of seeing the good in him, we know that, but she's also capable of forgiving the evil in him I think, or the darkness in him. I think she is probably the only human being who has been able to do that. I feel like his relationship with her…there's a strong friendship there, a trust there now. I think he, for the most part, tells her the truth and is open with her because he believes she has the strength to take it. He respects her, certainly. I think he respected her uncle as well. He's protective over her, I suppose, because he sees how compassionate she is. She had him pegged from the very start. I think there's definitely a protectiveness there.
JJJ: And finally, we've been given a little glimpse into Klaus' werewolf lineage. Any chance we'll learn more about that soon or is that something we may see next season?
JM: We're starting to delve into it because he starts to make alliances with the wolves. We met a member of Klaus' bloodline very briefly, just someone who was descendent of him. I would love to see more of that. I definitely think there's room to see more and with the season only having two episodes left, what we're really seeing is all of these factions and what they want. I'm speculating completely now, but exploring his werewolf past and his true father's identity would be a great subject for season two. If I were writing it perhaps that's what I would do (laughs).
Like Just Jared Jr. on FB