Tue, 20 May 2014 at 1:00 pm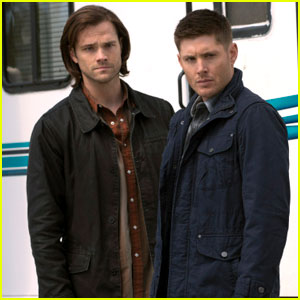 After nearly ten years on the air, Supernatural is still one of JJJ's favorite shows, and for good reason!
Season after season, the Winchester brothers take us along on these crazy supernatural adventures that continue to shock, torment, and suck us in every time. (Not to mention, make us swoon in the process.)
We recently caught up with stars Jared Padalecki, Jensen Ackles, and Misha Collins about the can't-miss season finale and how they've grown up together over the last decade. They also discuss the future of the show! Supernatural season 35? Bring. It. On.
"Something happens in the finale that is a first we'll see," Jared told us. "I'd say don't miss the last 30 seconds of the finale."
Misha said, "I can say that the fans are going to freak out. I think it's very chilling and disturbing. When I read the script for the finale, I was definitely shocked. I thought, 'Can they do this?' The last five seconds!"
"I'm going to one up [Jared and Misha] and say its the last second," Jensen told JJJ. "The moment the screen goes to black. The last second. There are multiple characters involved. There's a predicament now."
He continued, "I have no idea. After 195 episodes, there's not a whole lot that really shocks me anymore. I'll read and there will be a cliffhanger, and I'll be like, 'Oh, nice. That's good. OK,cool.' I'll give you this, I read this one and I was five pages to the end and I was like, 'Really? OK,' which is about my reaction normally. And then I get to the every last page and I'm like [insert shocked face], 'Oh, man.' Jeremy Carver did a very good job. He outdid himself writing this episode."
The Supernatural season nine finale airs TONIGHT, May 20 @ 9PM on The CW!
Click inside to see what else the guys had to say about the show…
After nearly a decade on the show, the actors have grown up alongside their TV counterparts.
"I'd say Jared and Jensen have aged more than Sam and Dean," Jared told us. "They've obviously been through a lot more. Jared and Jensen have both gotten married and become fathers, which is very neat and exciting. Definitely a life change. We grew up with the show. I was 22 when it started and now I'm 31 with two kids. Jensen was 25 and now he's 35 with a kid. So we grew up with these characters, helped them grow up, and vice versa."
Jensen shared a similar sentiment, but with a twist. "I think Dean has evolved more, but Jared has evolved more. I think between Sam and Dean, and Jared and Jensen, Jared has grown up the most. He was 22 when he started the show. I was young, but he was a baby. Now he's in his 30s, he's got two children, he's married, he's just a different person. It's been cool to be a part of that and sit and watch him become a man. I like to think I helped him along the way with advice and stuff, but I'm very proud of the man he's become."
He added, "That being said, the characters have been a part of that as well. I think Dean still comes from the same place, but has been through so much that he's of a different mindset. Sam, on the other hand, is coming from a different place. In the beginning, he was like, 'I don't want to do this. This isn't my life. Get me off this boat. I don't want it.' Now he's like, 'This is what I do. Eye on the prize, this is what we're doing, let's get it done.'"
So how long will the Winchester brothers stick around? "Earlier someone asked me if season 10 was it and my only answer was, 'I hope not. But if it is, it's something to be proud of, and it it's not, we'll carry on,'" Jared said. "I feel like season eight and nine, specifically, we caught a second wind. We had new storylines and new characters who brought such life to it. As a fan of the show, I've been excited an uptick in the quality of the show. They're creating new and fun things, and if they keep doing that, we'll see."
Misha agreed, "It's doing amazingly well and it doesn't seem to be going away, and I think that there is something to us…what I'm seeing anecdotally is a second generation. It's like 15, 16-year-olds who are coming up to me saying, 'I love Supernatural.' Ten years ago, they were five and six. If they have been watching the show for the last 10 years, they're probably psychologically damaged. But yeah, they were too young when we started and now they're catching up on Netflix. There's a new generation, which is kind of awesome."
TELL JJJ: Do you want Supernatural to continue a few more seasons?
Like Just Jared Jr. on FB