Thu, 05 June 2014 at 4:30 pm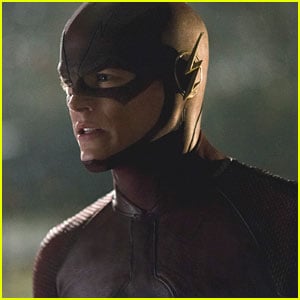 If we had to pick one upcoming show that we absolutely can't wait for, it's hands down The Flash!
The superhero spin-off of Arrow, based on the comic book of the same name, stars Grant Gustin in the title role.
And because we got an early glimpse at the pilot, we can assure you he was the perfect casting choice for our favorite Central City crime scene investigator Barry Allen, who gets struck by lightening and becomes the fastest man in the world.
He even gets a little crash course in saving the world from his personal idol The Arrow (Stephen Amell) in the first episode.
We recently caught up with Grant and his co-stars Danielle Panabaker, Carlos Valdes, Rick Cosnett, and Jesse L. Martin, all of whom gave JJJ some fun scoop about what to expect and opened up about how they got ready for their big roles.
Grant told us, "I was excited about this when they announced they were doing it, before I auditioned for it."
"I have been reading the comics," Carlos said. "I've been immersing myself in this world. I can't get enough of it."
"They gave them to me, but because my character doesn't know any of stuff, I'd rather not know," Jesse said of his character, Detective West.
Rick added, "I didn't [know] much at all, but once auditioned and I did a lot of research. I was never into comic books when I was younger, but I got it. I get it. They're so beautiful and epic, and there's so much art to them. And a picture says a thousand words, you know?"
Click inside to get five tidbits of scoop on The Flash…
Here are five things we can expect from the show:
1. Crossovers! (Duh.) And hey, maybe even a Barry and Felicity (Emily Bett Rickards) reunion!
"There will be crossovers. I don't know who will be coming and going from which show, but yes, as far as I know, it's been established," Grant told us, adding about Barry and Felicity, "I would expect that's not done, but I don't know."
2. A badass evolving costume!
"You don't want to hear an actor complain about being a superhero, but yeah, it's not the most comfortable thing I've ever worn. But it's maybe the coolest thing I've ever worn, which kind of makes up for it. And we've since made some slight modifications to make it more comfortable," Grant said.
3. Team The Flash!
Danielle said, "I'm Caitlin and I'm one of the scientists who works at Star Labs to help The Flash battle bad guys." Carlos added, "I play Cisco Ramon. I work alongside Caitlin Snow and we both make the magic happen, to say the least."
4. A love triangle! (This is the CW, we're talking about.)
"He's a star detective and he's knew," Rick told us about Eddie. "He just got transferred from Keystone City to Central City. Everyone loves him in the precinct because he swoops in and does a really good job. He's a very able man. He's really nice. He is very good at his job. He doesn't have any weird addictions or anything…and I think much to the dismay of Barry because they are friends, and there may or may not be a girl who gets in the way. There's a lot of tension."
Grant added, "Barry's in love with Iris (Candice Patton), so that will be another fun dynamic."
5. Showrunners who know what they're doing!
"I feel like we're in good hands," Danielle said. "Greg Berlanti, Andrew Kreisberg, and Geoff Johns…Andrew and Geoff, forgive me, are such comic book nerds. I asked them, 'What do you think? Where did you Caitlin go to college?' And all of a sudden, ten minutes went by and they're like, 'She went to this college and this was her most important professor.' They have the history behind every character, so that's great."
Grant shared that sentiment, "I feel pretty good, but that's not because I'm super confident or anything. It's just because I trust everyone around me and I'm just having fun, so I'm not really worrying about it."
The Flash premieres this fall on Tuesday nights @ 8PM on The CW!
Like Just Jared Jr. on FB