Fri, 18 July 2014 at 2:00 pm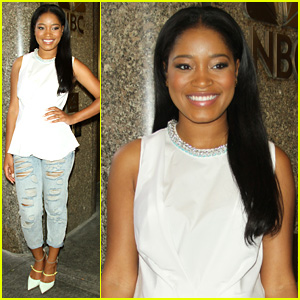 KeKe Palmer stops to pose while making rounds promoting her new talk show Just Keke on Wednesday (July 16) in New York City.
The 20-year-old actress/singer recently took to Instagram to defend her new interview with Chris Brown's girlfriend Karrueche Tran.
PHOTOS: Check out the latest pics of Keke Palmer
"I'm not with the passive aggression," Keke wrote. "So let's talk about this. Some Rihanna fans feel a way about my interview with Karrueche. I have enough respect for Rihanna to address the topic, and I'm a virgo so there are a couple of things I have to get straight. People make ideas of what my intentions are and I will willingly tell you…Let's be real, people want to hear what Karrueche has to say. No one has ever heard her speak about anything pertaining to her relationship…Until #JustKeke."
She continued, "I've been promising y'all since my show started, to give you the REAL. The real isn't what everyone agress on, but what is real to ANY particular individual. And the real I had on the show on a particular episode was from Karrueche's point of view. I give my people what they want, and I know you all will be watching."
Click inside to read the rest of Keke's note…
"The ones that love/hate Rihanna, the ones that love/hate Karrueche. My loyalty is to the COMMUNITY. I don't agree with y'all, but if people really want to hear you, I WILL give you a place to say your peace. The other half of that, is I have too much respect for myself to EVER be disrespectful to anyone else, despite my friendships, despite my own opinions I will always show LOVE. THAT'S GOD IN ME! All of you are my brothers and sisters, to me, there is a universal love. It isn't all about "what Keke likes," that's subjective, it's about me giving everyone the platform to speak THEIR TRUTH. So if you want to be mad at me for being a vessel of LOVE, be mad. But I won't hate or have disdain for another because you THINK someone else does.
- Keeks, XO
#1love"
Like Just Jared Jr. on FB