Wed, 30 July 2014 at 6:15 pm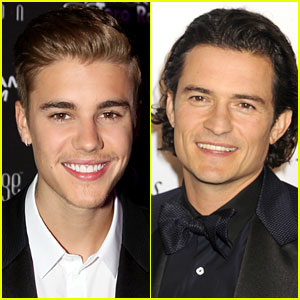 Have you made up your mind on whose side of the Justin Bieber-Orlando Bloom fight you are on? Well a bunch of celebrities have already made theirs.
Which side are the celebs on? Well the vocal ones all seem to be rooting for Orlando at the moment. We will keep updating with any additional reactions!
"Orlando Bloom didn't try to punch Bieber. It looks like he tried to flick him in the head. That's way, WAY better," Arrow star Stephen Amell wrote on his Twitter account.
The Vampire Diaries' Candice Accola added, "I'm glad Orlando Bloom smashed that weiner Justin Bieber. #smashedweiner."
Orlando Bloom didn't try to punch Bieber. It looks like he tried to flick him in the head. That's way, WAY better.

— Stephen Amell (@amellywood) July 30, 2014
Click inside to see more celebrity reactions to the fight…
This Justin Bieber/Orlando Bloom thing is the first time I've been interested in a featherweight match.

— Joshua Malina (@JoshMalina) July 30, 2014
I'm glad Orlando Bloom smashed that weiner Justin Bieber. #smashedweiner

— Candice Accola (@CandiceAccola) July 30, 2014
Orlando Bloom punched Justin Bieber? My teenage crush punched this generation's teenage crush!

— Mara Wilson (@MaraWritesStuff) July 30, 2014
If Orlando Bloom beats up Justin Bieber, then Orlando Bloom is The One.

— Joseph Kahn (@JosephKahn) July 30, 2014
.@TheLadBible: Orlando has won infinite lad points after punching Justin Bieber last night in Ibiza For the shire! http://t.co/yotFnVReEj"

— Dominic Monaghan (@DomsWildThings) July 30, 2014
Like Just Jared Jr. on FB