Fri, 08 August 2014 at 7:23 pm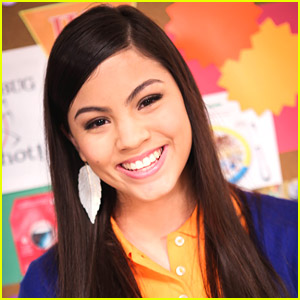 Tonight is the night — the season two finale of Every Witch Way starts in just under an hour on Nickelodeon!
JJJ caught up with actress Paola Andino, who plays Emma on the show, to get the scoop on her character, what's coming in season three and more.
Check it out below and don't forget to watch Every Witch Way TONIGHT @ 8PM ET/PT on Nickelodeon!
JJJ: Tell us how Emma has changed since season 1, where do you think the final episode of season 2 left her character?
Paola Andino: Emma has evolved and matured so much since season 1, not just as a witch but as a teenage girl. She is a lot more responsible with her powers and less naive. She showed everyone this season that she's not afraid to stand up for herself. That made me really happy because it was something I could relate to and I hope the audience could, as well. The final episode of season 2 left her stronger than ever. After the epic battle with her evil clone, she proved that she really will do anything to protect her loved ones, like Daniel and Andi.
JJJ: What would you love to see happen with Emma in season 3?
PA: After all of the relationship drama in the first and second season, I would love to see a more independent Emma that focuses her time on the amazing powers she has. Girl power as a teen and witch! I also think it would be so cool if she could get a puppy. How adorable would that be?
(Click inside for the rest of our interview with Paola…)
JJJ: Tell us about working with your co-stars?
PA: After working with the same people for 2 seasons, my co-stars are definitely my second family. We spend so much time together and are so comfortable around each other. I think that's the best thing about working with them. We can all be ourselves.
JJJ: Congrats on your Imagen Award nomination! What did it mean to you?
PA: Thank you so much! It meant so much to me to be nominated for an Imagen Award; a huge honor. It was all about recognizing that I'm Puerto Rican, Latina, and so proud. The night of the awards was an incredible experience and it was great to spend quality time with other Latino/as that are working hard and successful in this industry.
JJJ: You looked amazing at the awards, tell us about your personal style?
PA: Sometimes I just like to be a casual, jeans and t-shirt kinda girl but a few of my favorite designers include Rebecca Taylor, Rag and Bone, Alice & Olivia, Elizabeth and James, Parker, Top Shop, and BCBG!
JJJ: We hear that you speak fluent Spanish! How old were you when you left Puerto Rico? Tell us about what your Latina roots mean to you.
PA: I was almost 3 years old when I left Puerto Rico and moved to Dallas, TX. When it comes to my roots, I am constantly sharing the fact that I'm Latina. There aren't very many Latinas in this industry. I think it makes me different than other girls, almost like a little flare that hopefully makes me stand out. I want my name to be remembered and it would mean the world to me to have young Latina girls believe that they can succeed in whatever their hearts' desire because I know exactly what that feels like.
JJJ: What are the differences and similarities between Emma and Paola?
PA: Emma and I have a lot in common. She's honest, innocent, and always wants to fix problems when they come up, like me. The main difference between Emma and I is the way she handles all of the power she has. She's the Chosen One which means she's the most powerful witch in her generation but she lets people distract her sometimes. I wouldn't have time for boys or mean girls if I were a witch. My face would be glued to the Hexoren, the book of spells, and I'd always be practicing.
JJJ: Where do you see yourself in five years?
PA: In five years, I see myself consistently working and staying busy as an actress. I want to be known for my versatility and taking on unexpected roles. Making the transition from TV to film eventually would be great! I'm open to any genre but dramatic films have always been my passion, so it would be awesome to start doing those and show people a completely different side to me they've never seen before. I always love a good challenge in a role.
JJJ: Who are your role models?
PA: My role model is definitely my mom. She's the strongest, most beautiful woman inside and out that I know. I could go on forever listing the reasons why I love her. She's that one person I can count on to always be there for me. As far as actresses go, I really look up to Natalie Portman. She's had such a long, diverse career, and continues to surprise audiences with her project choices
Like Just Jared Jr. on FB