Wed, 13 August 2014 at 1:35 am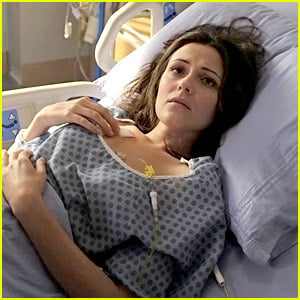 JJJ seriously needs stock in a tissue brand and any kind of medicine that will keep our hearts from breaking.
Tonight's summer finale of Chasing Life was so heartbreaking in every form — and we're also going to need April to stop her horrifying dreams.
As April got settled into the cancer ward at Mass Gen, she's given a huge send off from her family, a prep course from not just her own doctor, but George as well, and meets the nurses and some other patients. Later that night, after her first go-around with chemotherapy, Sara stays the night with her and to get her to sleep, reads her a favorite childhood book.
Sara also meets Martine, April's favorite nurse. We kind of love her more than Leilani, too, April. April wakes to find Dominic watching her sleep again. Dom's back! Let us rejoice about that before everything else happens.
(Click inside to read what else happened on Chasing Life…)
Dominic questions her about the cancer and she slips around telling him just when she was diagnosed…at least for a few moments and then comes clean about her entire story. We kind of understand April. We wouldn't expect anyone we had just started dating to stay around through an illness like that — but Dominic is different, way different. And he tells her just that. Unsure of if to stay or go now, Dominic leaves for his place and leaves April in her room — but not before giving her the best gift ever – a 10, 080 minute playlist (seven days worth). Cue the awws!
Later in the day, Danny comes to visit April and while he was unsure of how to act around her, is back to his true self in no time. We. Love. Danny. Beth also comes to sit with April later and together, they listen to Dominic's playlist for a bit before April gets sick from the chemo.
Brenna stays with April the next night and talks to April, her big sister, not the cancer patient, about the school finding out about her romp in Florida with Greer and skipping the Eco Conference. After she finds out that she's not a match for April's bone marrow transplant, Brenna comes clean to April that she went down there to find Natalie.
The next morning, Brenna also comes clean to Sara and after a huge mom-to-daughter lesson in yelling, Brenna tells her she knows that Sara knows about Natalie. Family of Secrets.
Back with April, she has another horrible dream about her dad visiting her in the hospital and it's scaring us to death. Quit it! After she wakes, she gets up from her bed and tells Martine that she's going for a walk — when in reality, she's escaping and leaves her pole full of medicine that she so needs in the hallway and calls Leo to help break her out.
He finds her in the hospital's chapel and after listening to her let go of her fears and why she really does not want to be there (silently saying that cancer sucks, which it does), tells her that he's not helping her break out. He already knew she was going to survive it the first time at the support group when she told him and the group she was indeed sick. He walks her back to the cancer floor and leaves her in the hallway, just as Dominic sees them talking and Sara and George run in and their own fears of her missing are quenched.
Dominic comes into her room to visit later on, once she's hooked back up to the medicine, and talks to her about what he saw and what exactly she has going on with Leo. He tells her that he could've been that guy who she could call instead of Leo if she gave him the chance to and essentially breaks up with her again. His feelings are very valid.
Back with Brenna, after chewing out Ford for being, well, Ford, Sara also tells off Greer's parents for forbiding their daughters' relationship (not for Greer being gay, but for Brenna being a bad influence). Not cool, Danvilles! We're now even more worried about what this means for Grenna.
April has another hallucinogenic dream in a Heaven Support Group, where Carrot Dude, Jackson (not Jackson!) and her Dad all are. After waking up from it, with a better feeling about surviving it all, she opens the blinds and lets the sunlight into her room. With Beth, she takes a walk around the ward and spots Leo's parents. She checks her voicemail that Leo left her, asking to talk to her.
And that's exactly where we get a cliffhanger — NO NO NO. What happens next?! A Christmas special is coming, but that is too far away!
WHAT DID YOU THINK of the summer finale?
Like Just Jared Jr. on FB