Wed, 17 September 2014 at 3:20 pm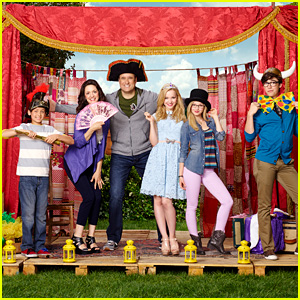 It sounds like the cast of Liv & Maddie is just as excited about the second season as we are!
"Whenever I'm away from Liv and Maddie's for a long period of time, I catch myself talking to my friends and family about how excited I am to come 'home' and be with my'family' (my cast)," Dove Cameron told JJJ. "Liv and Maddie is my home. I was really looking forward to being someplace I felt supported and loved every single second of the day."
Joey Bragg told us, "I love everybody on that set. They are all like my best friends. So when I don't see them it's like being away from my best friends. I get to work and I am just hangin with my besties all day."
Meanwhile, Tenzing Norgay Trainor said he's most excited for "Basketball with Joey! We have a lot of fun together on set."
In the season two premiere, the family is getting ready to compete against one another in the Wisconsin Cheddar-Brat Fest. Ironically, Liv's premiere of "Space Werewolves" is on the same night.
Liv & Maddie returns on Sunday, September 21 @ 8:30PM ET/PT on Disney Channel!
Click inside to see what else the cast had to say about the new season…
JJJ: What did you this summer during your time off? Did you get to try anything new?
Dove: "I love our little summer breaks, they feel just like being back in school. But, I didn't take much of a break. I actually worked on my first feature film! An incredible projected called Barely Lethal, which will be in theaters in early 2015. I learned a ton. Not to mention, met some pretty rare and beautiful humans."
Joey: "This summer I actually went to my first concert. I saw Billy Joel at the Hollywood Bowl. I was so hooked I immediately went to a music festival in Tennessee."
Tenzing: "We had a very busy summer with family visiting. My uncle and his family visited from Bhutan and stayed for three weeks. We did all the theme parks and water parks in Los Angeles. It was awesome. After they left my other uncle visit with his family from India. He was bringing my cousin go to college in San Francisco. They came to a live taping and the comedian who warms up the audience happen to ask if anyone here knew where Mount Everest was located. This particular uncle actually climbed Mount Everest in 1996. The comedian was pretty floored when it just so happened that and Everester was in the crowd."
JJJ: Who did you miss the most during your time off (cast or crew member)?
Dove: "I know this is going to sound like such a cop-out 'Hollywood' answer, but there is not one SINGLE person I dislike on our set! That's part of what I think is so magic about our show. It's filled to the brim with love and light. So, I looked forward to seeing everyone. Every cast member, crew member, director and fan."
Joey: "I love everybody on that set. They are all like my best friends. So when I don't see them it's like being away from my best friends. I get to work and I am just hangin with my besties all day."
Tenzing: "I miss everybody on set when I am not there. Everyone has so much fun together making the show. If I had the pick one person though, it would be Joey. We spent a lot of time together and we both like sports."
Like Just Jared Jr. on FB