Mon, 06 October 2014 at 5:30 pm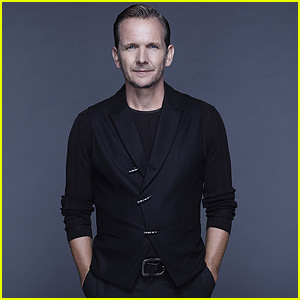 Sebastian Roché may be tight-lipped about what he's calling an epic sophomore season, but we still managed to get some scoop on The Originals for you!
The veteran actor, of course, stars as the intimidating hunter and Original vampire Mikael – one of our favorite characters – who is back in New Orleans to take down his sons Klaus (Joseph Morgan) and Elijah (Daniel Gillies) once and for all.
But how will Davina's (Danielle Campell) control over him factor into his diaboloical plan?
And will we finally see a big family reunion now that Esther and one of his other sons has shown up in the French Quarter? We can't wait to find out!
The Originals returns TONIGHT, October 6 @ 8/7c on The CW!
JustJaredJr.com: Hi Sebastian. We're so happy to see you back! We especially love all of the Mikael and Klaus scenes! Can't wait for more.
Sebastian Roché: Thank you! I love it when people love my character. Joseph and I have thing thing. When we click, we click. Every time we're on screen together, it's just fabulous. He's such committed, intense, and hard-working actor. That's what I love about Joseph is how committed he is to the series and to the work. It was brilliant on their part to find two actors who seem to connect so well, you know?
JJJ: Definitely. Now, considering you're in the promo shots, is it safe to say you'll be sticking around for a while?
SR: You're guess is as good as mine actually, which is always interesting. You never know. I love doing the promos and I thought to myself the same thing, but you're guess is as good as mine. And knowing my track record on TV too, I pretty much die all the time (laughs). We'll see what happens, but I would love to stick around. He's such a wonderful character, truly.
Click inside to read the rest of our interview with Sebastian Roche…
JustJaredJr.com Interview – Sebastian Roche
JJJ: We know that Mikael is still under Davina's control. Will she be on his hit list should he get free, or does he have other people to worry about first?
SR: I think every one is on his hit list. There's a great deal of admiration for someone who can stand up to him, and outwit and outsmart him. There is that side of it. But at the same time, Mikael can't bear to be imprisoned. I don't know if Mikael is ever going to be nice to anyone because he has his own agenda. There are some really interesting scenes in the first few episodes between those two definitely. There is one that is incredibly intense. And another one that is too, but where it's sort of that mentor/student relationship, learning it the hard way. You'll see.
JJJ: We have a feeling Daniel Sharman's character will serve as a nice distraction for Davina, right?
SR: I'm sure. I mean, how could you not be distracted by Daniel? (laughs). He's charming and ridiculously good-looking. He's a lovely man too as well. I have a feeling it may be going in that direction. And you're going to learn some very interesting things about his character. It's going to be quite shocking.
JJJ: We're excited to see that!
SR: The first season was great, but this second season is just the culmination of so many things. It's so rich in character. It's truly going to be epic in proportion.
JJJ: We can't wait to see the inevitable reunion between Mikael and Esther and how that goes down.
SR: We'll see. It will be very interesting, won't it? When mom and dad confront, or maybe not confront, who knows? They may fall in love all over again (laughs).
JJJ: Which of his parents is the bigger threat to Klaus at this point?
SR: I think Mikael is a huge threat because of the antagonistic relationship between him and Klaus. But let's not discount the power that Esther has as a witch. I think she might have quite a few tricks. They are both forces to be reckoned with in different ways.
JJJ: Could you ever see a time where Mikael actually teams up with his sons, or is that out of the question?
SR: I don't know. I think if some of his sons came back, I think there could be sibling rivalry. I wouldn't put it past Mikael to enroll some of those from the…bad seed side of his family. Who knows, he might even team up with his wife! That's still a mystery. It's definitely a family-centric season. I love that they're bringing this sort of gothic fairytale aspect.
I'm excited to see it too. There are some scenes with a certain member of the cast that I'm really excited about…for people to see and see different aspects of my character. It's so cryptic, I'm sorry! (laughs). I think it's for the benefit of the show, but all I can say is that it's been such a wonderful pleasure. They write so well for the character. It's truly Shakespearean in proportion.
JJJ: Mikael is the only character with whom we've never really seen a softer side. Even Klaus had moments of vulnerability. Will we possibly see a different side of Mikael?
SR: We may, but Mikael's soft side may not be the same as other characters. We might see emotion coming out, yeah. The soft side? I don't know about. I hope that happens, I truly do. I believe the character's rage is motivated by intense pain and betrayal. So I would embrace that. It would be wonderful. I think people want to see it too. Who knows? Maybe there's the early days of Mikael when he was a romantic (laughs). After all, this is his family. These are people he must have loved at one point. Even Klaus. It's tough love.
JJJ: We can't wait! It was lovely to speak with you! We are such a fan of how you portray this character, everything from the voice to the subtle intimidation. It's so fun to watch.
SR: I intend him to be like that. Everything is measured and controlled. It's a character that requires an immense amount of focus and energy – interior energy. I really focus on the character – his diction, the way he holds himself. Everything seems to happen in slow motion, but at any minute, he could vamp and kill someone in the strike of a hand. He has that nuclear energy everywhere he goes. That's how I view him and approach the character. Every time he walks somewhere, he brings a thousand years of revenge and hatred. He is a super being in a way. This is a man who's been immortal for a thousand years and has a thousand years of history. So do the others, but I feel like Mikael is on another level because he's been so lonely in his quest for vengeance. He really is a sort of mythical character.
Like Just Jared Jr. on FB