Mon, 17 November 2014 at 4:00 pm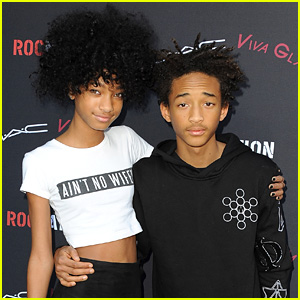 It's seemingly rare that superstar siblings Jaden and Willow Smith give an interview, so we're basking a bit in this new one with the New York Times.
The 16-year-old rapper/actor and 14-year-old singer opened up to the paper about a ton of topics, including school, music, and their favorite books…in their own words, of course.
Here are 10 interesting things we learned about Jaden and Willow:
1. Their books of choice.
Willow: "Quantum physics. Osho."
Jaden: "'The Ancient Secret of the Flower of Life' and ancient texts; things that can't be pre-dated."
2. Jaden's idea of time.
Jaden: "It's proven that how time moves for you depends on where you are in the universe. It's relative to beings and other places. But on the level of being here on earth, if you are aware in a moment, one second can last a year. And if you are unaware, your whole childhood, your whole life can pass by in six seconds. But it's also such a thing that you can get lost in."
3. Themes that reoccur in Willow's music.
Willow: "And the feeling of being like, this is a fragment of a holographic reality that a higher consciousness made."
Click inside to see the rest of the list…
4. Willow writes her own novels.
Willow: "That's what I do with novels. There're no novels that I like to read so I write my own novels, and then I read them again, and it's the best thing."
5. Willow also likes to climb trees.
Willow: "I like to go to places with my high-fashion things where there are a lot of cameras. So I can just go there and be like, "Yep, yep, I'm looking so sick." But in my regular life, I put on clothes that I can climb trees in."
6. They are not fans of school.
Jaden: "Here's the deal: School is not authentic because it ends. It's not true, it's not real. Our learning will never end. The school that we go to every single morning, we will continue to go to."
Willow: "Forever, 'til the day that we're in our bed."
7. They also aren't big fans of the music out today.
Jaden: "Honestly, we're just trying to make music that we think is cool. We don't think a lot of the music out there is that cool. So we make our own music. We don't have any song that we like to listen to on the P.C.H. by any other artist, you know?"
8. Jaden thinks sometimes you shouldn't listen to your own mind.
Jaden: "Because your mind has a duality to it. So when one thought goes into your mind, it's not just one thought, it has to bounce off both hemispheres of the brain. When you're thinking about something happy, you're thinking about something sad. When you think about an apple, you also think about the opposite of an apple. It's a tool for understanding mathematics and things with two separate realities. But for creativity: That comes from a place of oneness. That's not a duality consciousness. And you can't listen to your mind in those times – it'll tell you what you think and also what other people think."
9. There are many reasons that breathing is important.
Willow: "Breathing is meditation; life is a meditation. You have to breathe in order to live, so breathing is how you get in touch with the sacred space of your heart."
Jaden: "When babies are born, their soft spots bump: It has, like, a heartbeat in it. That's because energy is coming through their body, up and down…It's prana energy because they still breathe through their stomach. They remember. Babies remember."
10. They have lofty goals.
Jaden: "I have a goal to be just the most craziest person of all time. And when I say craziest, I mean, like, I want to do like Olympic-level things. I want to be the most durable person on the planet."
Willow: "I think by the time we're 30 or 20, we're going to be climbing as many mountains as we can possibly climb."
WHAT DO YOU THINK about the things they said in the interview?
Like Just Jared Jr. on FB