Wed, 04 February 2015 at 3:30 pm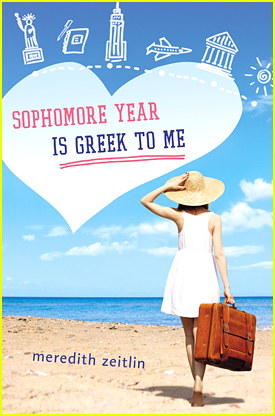 The JJJ Book Club is stuck in the snow — which only means we're looking forward to summer even more and Meredith Zeitlin's new book, "Sophomore Year Is Greek To Me" is our escape.
Lucky for us, and you, we got the first look at the book trailer!
"Sophomore Year Is Greek To Me" centers on high school sophomore Zona Lowell, who has lived in New York City her whole life, and plans to follow in the footsteps of her renowned-journalist father. But when he announces they're moving to Athens for six months so he can work on an important new story, she's devastated— he must have an ulterior motive.
See, when Zona's mother married an American, her huge Greek family cut off contact. But Zona never knew her mom, and now she's supposed to uproot her entire life and meet possibly hostile relatives on their turf? Thanks…but no thanks.
Zona navigates a series of hilarious escapades, eye-opening revelations, and unexpected reunions in a foreign country—all while documenting the trip through one-of-a-kind commentary.
"Sophomore Year Is Greek To Me" hits shelves on April 21st!

"Sophomore Year Is Greek To Me" Book Trailer
Like Just Jared Jr. on FB