Tue, 10 February 2015 at 8:30 am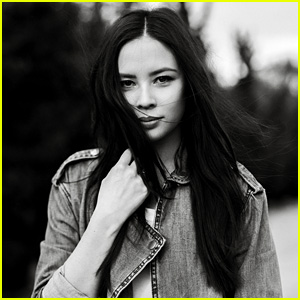 Malese Jow looks nothing short of gorgeous in this latest photo shoot feature for The Laterals.
The 23-year-old actress opened up to the site about her role on The Flash, and more. Check it:
On how she got the gig: "I had been super busy with auditions right before the holidays, and the Flash was one that was thrown into the mix. I was actually running late to my initial producers session, and was the last girl to show up. I'm usually Miss Punctuality so I was in a panic about it! I came running down the hall and straight into the room with all of the mastermind guys behind the show. Thankfully they helped me through my windedness and adrenaline and got a solid read out of me. Before I left the room, Andrew [Kreisberg] said 'Watch, these are the kinds of auditions people book.' I left thinking, 'I sure hope so!' The rest is history."
On comic books: "I'm ashamed to admit that I was never huge into comic books growing up, but you can imagine the weight that I felt when I started extensively googling the character and realizing how iconic she is. It's an absolute honor to bring her to life. I'm now the biggest fan of the comic book world. It's like a dream come true."
On the future: "I'm excited for people to discover me spreading my wings now as a grown woman in this business. I've grown up in front of the camera and up until now my fans have been so used to me playing a young girl. I can't wait for them to see me in a different light on The Flash and in future projects!"
For more on Malese, visit TheLaterals.com.
Like Just Jared Jr. on FB