Thu, 12 February 2015 at 5:00 pm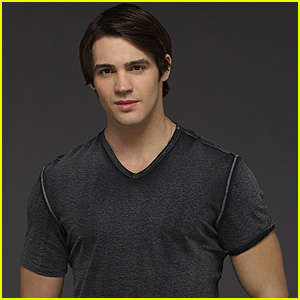 After six years and a whole lot of heartbreak on The Vampire Diaries, Steven R. McQueen makes his final appearance as a series regular tonight.
The 26-year-old actor took Jeremy on a journey from being a rebellious, sensitive kid to a hunky vampire hunter, who falls for Mystic Falls' resident witch Bonnie (Kat Graham).
To say we're going to miss him (and his amazing abs) is a serious understatement.
JJJ caught up with Steven to chat about his last day on set, his favorite Jeremy memories, and what advice he would give to him as he starts his new life.
The Vampire Diaries airs TONIGHT, February 12 @ 8PM on The CW!
JustJaredJr.com: Hi Steven! You've been on the show since the beginning and have seen multiple castmembers exit. Did that make it easier or harder, in terms of knowing what to expect?
Steven R. McQueen: I was on this show for six years and a lot of the people on the cast, crew, the writers, they are family at this point. So in one regard, it's like going away to college. It's tough to say goodbye. But in the other regard, it's exciting. It's exciting to see what comes next. But I will of course miss my other family.
JJJ: Tell us about your last day on set.
SM: There was a scene where I can't really say what happens, but I have a foot on my face. They shot this one shot, with literally just a foot on my face, like ten times. Finally, I was like, "What's going on here?" And the director said, "Let's shoot it one more time." The camera tilts up and the entire cast and crew come running out in these superhero costumes with a big old cake, and they shoved the cake in my face. It was a beautiful send-off.
Click inside to read the rest of our interview with Steven R. McQueen…
JustJaredJr.com Interview – Steven R. McQueen
JJJ: Amazing. Which superheroes were they dressed as?
SM: Oh, they had everything from Zorro to Ninja Turtles to Superman, Batman, Spider-Man, Iron Man, everything. It was pretty cool.
JJJ: Were you happy with the way Jeremy goes out, going off to art school and all?
SM: As far as the character goes, Jeremy has been through so much, and his main thing is he has failed to protect the people that he loves consistently. He's this kid who's trying to get his power back, to be strong for those around him. I think in that second to last episode, he was finally able to protect Bonnie, in the only way that he can. Once that's over, once there's nothing really else he can do, I think the poor kid deserves a break. And the only way he knows how to do that is a fresh start. I think it fits story-wise. They leave it open so if Bonnie comes back, I can come back for an episode or two, and get some closure. Or if there's a wedding or something, I can come say "hey."
JJJ: Speaking of closure, does Jeremy have that with most of the characters tonight?
SM: Yeah, I had scenes with most of the cast. And the ones that I didn't, we definitely hung out and grabbed a drink once we were done shooting. A lot of those people are in L.A., so I've been running into them here and there.
JJJ: Is there a moment or storyline that sticks out as your favorite?
SM: I think obviously Elena and Jeremy's relationship. And then the love between Bonnie and Jeremy, that was something that was really strong. At one point, I died and she was pining. And then she died, and I was pining. We were constantly kind of falling for each other, which was pretty cool.
JJJ: How will Bonnie and Jeremy fans be feeling later?
SM: I guess we'll see! I don't know. Hopefully good.
JJJ: And last question – if you could give Jeremy any advice going into this new chapter of his life, what would it be?
SM: Honestly, with everything that's he been through, I think he took the advice I would give him. He's going for a fresh start. He's trying to live life.
Like Just Jared Jr. on FB