Mon, 16 February 2015 at 10:30 pm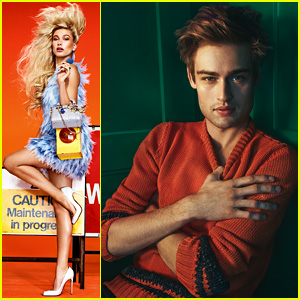 Hailey Baldwin and Douglas Booth shine bright in the latest issue of Wonderland Magazine.
The 18-year-old model and 22-year-old actor opened up to the glossy about their respective careers. Check it:
Hailey on her life motto: "Be yourself, be confident, be professional, but don't be boring. Anything is possible, the impossible just takes longer!"
Hailey on her career: "My agents and I set a list of goals for my career, so I'm pretty much just trying to reach those goals. I think modelling is a great platform, and I am really enjoying what I am doing now, but as I grow as a person, I will see what works for me. I just want to stay open to explore all creative avenues."
Douglas on Jupiter Ascending: "I had this space orgy. I'm floating pretty much naked with all these spliced half-human, half-animal beautiful women all over me."
Douglas on America: "I would never move there. If I was ever in the position to, I would love to buy a house there, if dreams come true, but I'd always live here. It's always been my base. I love it. I cycle everywhere, I love the streets, the people. I love going to LA too, one of my best friends lives there, but after four weeks I'm ready to come home and have a reality check."
For more on Douglas and Hailey, visit WonderlandMagazine.com.
Like Just Jared Jr. on FB