Thu, 19 February 2015 at 5:00 pm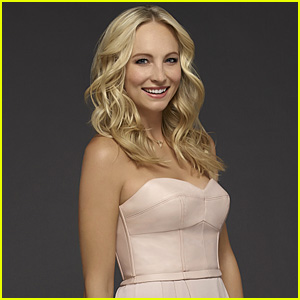 Candice Accola previews what is sure-to-be another heartbreaking episode of The Vampire Diaries as we say our final goodbyes to Sheriff Forbes (Marguerite MacIntyre) tonight.
The 27-year-old actress of course stars as Caroline, our favorite fun-loving vampire who sadly just lost her mother to cancer.
Not only is she dealing with this huge loss, but Caroline and Stefan (Paul Wesley) just shared their first kiss after years of friendship and seasons of sexual tension.
Candice gives us the scoop on Caroline's tribute to her mother, Steroline's chances of survival, and more. Check it:
The Vampire Diaries airs TONIGHT, February 19 @ 8PM on The CW!
JustJaredJr.com: Hi Candice! So we've seen a lot of deaths on this show, but really not that many funerals. What can you tell us about the episode tonight?
Candice Accola: You can expect a lot of tears. If anyone thinks the episode is going to get more cheerful this week, be prepared with a lot of Kleenex because it's going to be an emotional funeral. And yes, I sing at one point. Caroline pays tribute to her mother and it's a really really huge moment. You see all the characters really come together and mourn. It's just sad. And like you said, there's so much death on the show, but this is just something they couldn't compete with. It's not some spell or some vampire disease. It's a very real thing. Caroline's mother, Sheriff Forbes, died of cancer and there was nothing anyone could do. So it's a really sad funeral.
Click inside to read the rest of our interview with Candice Accola…
JustJaredJr.com Interview – Candice Accola
JJJ: Caroline is very strong, but we also know vampires can turn off their humanity. Is that something we should be worried about with her?
CA: Caroline definitely has a very strong support system and she's very focused in this next episode. This is the Caroline we've known and loved all these seasons who had a plan. She's going to stick to it. She's going to make a list and she's going to check it twice (laughs), and get everything done. So that's really where the focus is, and her friends are really bound together around her.
JJJ: Given her mother's last wishes for her to live her life extraordinarily, will we see Caroline with a different outlook on life?
CA: This week we're going to see the same Caroline, but she is different. Whatever she's grief she's been through, even with the passing of her father seasons ago, this is unlike that completely. She is very different. We're going to see her really accepting that grief and figuring out what to do with it. We're going to see her really grow over these next couple of episodes.
JJJ: That last scene at the hospital was heartbreaking. What was it like on set that day?
CA: Just reading the episode was very emotional. It was interesting to see how much even the crew was emotional about the whole thing. We all know Marguerite is right around the corner writing on The Originals, so we're all going to see her. I think in season one, saying goodbye to people, we were all a lot of younger. It was like we were never going to see each other again. And then now we've realized that's not the case. We all hang out quite often. We're all very very close. It was very quiet on set. And she's a Sheriff, so the funeral also has the police force giving their final call. It was moving and emotional to be there. We were in a church together, so it was a lot more emotional than I thought it was going to be.
JJJ: Of course, we finally got the kiss between Stefan and Caroline. How does their relationship progress these next few episodes?
CA: Stefan and Caroline definitely need to have a big conversation, so we can expect that to happen at some point. I think it was written so heartbreakingly well. As soon as Caroline lets down her guard and stops worrying about her mom, and welcomes a natural moment, that's when her mom passes. But that's where her focus is. Her focus is on the funeral and she knows she need to talk to Stefan. And at some point they will talk. And how that conversation goes is what the viewers need to watch [tonight].
JJJ: Let's talk about the kiss itself. What was it like reading that script and showing up to set that day, knowing it was finally happening?
CA: I love TV and I always love when two characters have a really slow build into a relationship. And you just hope that it's a great payoff. We got really lucky. The first day we were supposed to shoot the kissing scene, we got clouds and wind and it was so ugly outside. We actually postponed. The next day, they got it. It was this beautiful sunset and it was so pretty. It was a really great payoff for these characters with an incredible sunset backdrop.
JJJ: Both Caroline and Stefan have had their past relationships not work out for various reasons. What do you think makes their relationship different? Do you think they best suited for each other?
CA: I think what makes the Stefan and Caroline relationship different, even though these characters are eternally young because of the fact that they are vampires, they still gain life experience. I think Caroline's relationship with Matt was very much a high school romance. And then she graduated into college with her romance with Tyler. And now she's out of college, I think emotionally, and she's a little bit more sure what she wants. And that's maybe the silver lining that could give these two characters' relationship a chance.
JJJ: Enzo is still up to no good and has it out for Stefan. Since Caroline is his best friend (and now maybe more), is there a chance she could get caught in the crossfire?
CA: Enzo is very focus on his objective to get revenge on Stefan, so he's kind of cutting Caroline a break. But we still see them have some fun scenes together. I just worked with [Michael Malarkey] yesterday. So we'll definitely see some Caroline and Enzo scenes. But instead of trying to mess her with her, he's really focused on Stefan at the moment.
JJJ: Julie [Plec] confirmed that Bonnie [Kat Graham] will be back in the present soon. Is it safe to assume Caroline will be excited to have her back?
CA: Caroline is very focused on the fact that her mom just passed away, so she's dealing with that. She's got a great support system and she knows what it means for Bonnie to be back.
JJJ: And lastly, if you could give Caroline any piece of advice at this point, what would it be?
CA: I wouldn't have any advice. Honestly, I don't think there's any perfect piece of advice for a person who loses a parent. I don't think anyone handles grief the same way. I would have no idea what to say. I would probably hug her. I think that's what people really need when they are grieving. I think sometimes there are no words. Just hugs.
Like Just Jared Jr. on FB