Wed, 25 February 2015 at 3:20 pm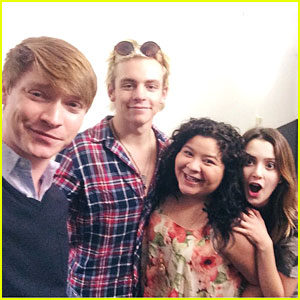 The cast of Austin & Ally really wants you to vote for them at the 2015 Kids' Choice Awards…and their voting game is strong.
Laura Marano tweeted out to her fans, "For best TV actor, why don't you vote for this crazy guy I know using #VoteRossLynch #KCA :D"
She added, "Also, if you waaant, vote for this silly brunette girl using #VoteLauraMarano #KCA Thank you to everyone who's already voted! YOU ROCK :D Ps, I definitely had to look at @Raini_Rodriguez's profile to make sure all the hashtags were correct #ThanksRaini ;D <3."
Ross Lynch also wants you to vote: "Everyone vote for #VoteAustinAndAlly and #VoteLauraMarano for a #KCA!" he wrote, adding later, "Apparently you can only do one vote per tweet. And #VoteLauraMarano #KCA."
But, we think Calum Worthy's plea for votes is the best. Check it below:
Like Just Jared Jr. on FB