Sat, 07 March 2015 at 5:30 pm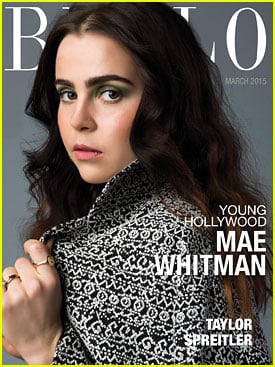 Mae Whitman graces the Young Hollywood cover for the March 2015 issue of March 2015 cover of Bello mag.
The 26-year-old actress opened up about leaving Parenthood behind, her deep friendship with Lauren Graham, and more. Check it:
On Parenthood: "I've never seen a TV character go from a 16-year-old troubled teenager to a 23-year-old mom that people have faith in. I think that was really amazing…it was so magical. That journey is something I could never put into words. Everybody felt so respected, and heard, and trusted. I learned so much from every actor, every crewmember, and every character on that show, not just my own,
On her friendship with Lauren: "We're much closer than I could ever say. Lauren is more than a mother to me; she is my best friend, my mentor, and my really goofy pal. She's my hero. I think she's such an inspiration professionally and emotionally, and she surprises me in everything she does. She knows more about me than anyone and has helped me through some things that I was struggling with. [She's] the kind of indispensible person [who] comes into your life, and I can't remember what it was like without her. I'm eternally grateful for her affection."
On venturing into the film world again: "We were so spoiled and had such great hours and it was close to my house, so I was always in and out of work. Filming The DUFF just brought to light how different that is from normal. Working 15-16 hour days – and night shoots till five in the morning – was an abrupt change. Parenthood was like a good parent that you have that gives you a really good perspective on everything, and I plan to take that with me everywhere I go."
The March 2015 issue of Bello is now available on all digital devices.
Like Just Jared Jr. on FB