Thu, 12 March 2015 at 10:47 am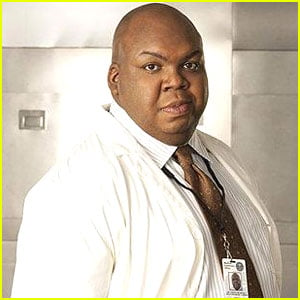 While most of us remember Windell D. Middlebrooks from The Suite Life on Deck and Mighty Med, we also remember him from Body of Proof.
The 36-year-old actor played Curtis Brumfield on the ABC series opposite Dana Delaney and Geoffrey Arend.
Geoffrey wrote an incredibly moving eulogy for his friend. Read it below:
"I hear certain people referred to as a once-in-a-generation talent or a once-in-a-generation mind, but Windell Middlebrooks was a once-in-a-generation human being. He embodied all of the virtues that we find rare and inspiring in each other: passion, generosity, loyalty and friendship. People like Windell are the better angels among us, constantly lifting spirits, teaching by example that we shouldn't fear thinking with our hearts. His smile was a gift, his laughter was infectious, and he was very strong. Before Windell, I didn't understand that a bear hug was supposed to feel like an actual bear hugging you.
The first season of shooting Body Of Proof took place in Providence, RI, far away from much of the cast and crew's families. It was especially lucky for us to have had Windell then; he carried an easy sense of home and family wherever he went."
(Read the rest of Geoffrey's eulogy for Windell inside…)
"One of my fondest memories of Windell was when we went to one of those Chuck E.Cheese for Grownups establishments that lets you drink, play Street Fighter and eat pizza at the same time. I remember Windell asked the bartender if, when he made his cocktail, he could put it in something other than the Budweiser glasses that populated the bar. I asked him about it, and he spoke about how much he appreciated the Miller job, how it was a blessing, and that it didn't make sense to drink in anything besides a Miller glass because he didn't want to disappoint the fans that inevitably approached him. Of course, on cue, a fan appeared asking for a picture. Forever the prince, he stopped what he was doing and spoke with the guy for several minutes.
"Later that night we started playing those horribly addictive games that give you tickets for prizes no kid could ever hope to earn – the top-shelf stuff in the treasure room that beckons to you to keep playing but is forever out of reach. Every kid with a handful of tickets gets stuck with a plastic whistle or crap candy after blowing 10 bucks on Skee Ball. Anyway, Windell was playing some dumb-looking game when suddenly all the sirens went off, lights flashed, and tickets started pouring out in his direction. I want to say they were in the thousands, but I'm probably discounting it. His face was priceless, beaming and excited as the tickets waterfalled over his legs. A crowd was forming around the squawking machine. Windell gathered up his riches, looked at me and said, "Hey, watch this. This is the best."
"He walked away from the crowd, towards a mother and her mesmerized son. They togeoffreywinell22o were watching the machine as it died down, wondering if any luck was left in it. Windell whispered something to the mother and she considered him for a moment before nodding, at which point Windell crouched down and offered the impossible bundle of tickets to her tiny kid. I could see the boy's mind racing, trying to figure out if it was a trick. With a smile, Windell evaporated his doubts. The kid let out a laugh and hugged the billowing ticket mass. As the little guy strode to the treasure room with his mother, the kids who had been drawn to the big-win machine now surrounded him with as much awe and excitement.
"I stood there, speechless. Why did he do that? I mean, I was standing right there –why didn't he give me the tickets? Windell, still smiling, forever smiling in my mind, put his hand on my shoulder and said, "Now you go get some tickets and do it too."
"I will remember him as that once-in-a-lifetime type of person: an incredible actor, a gifted performer and a fantastic human being. I truly believe he brought out the best in everyone around him in every situation. I know he did that for me. He will be missed.
Geoffrey Arend"
Like Just Jared Jr. on FB