Thu, 12 March 2015 at 10:30 am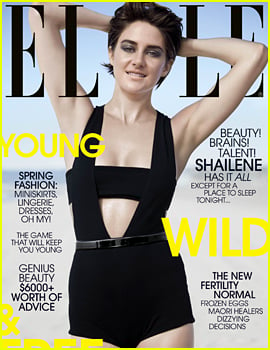 Shailene Woodley shows off her fabulous figure on the cover of Elle magazine's April 2015 issue.
Here's what the 23-year-old Insurgent star had to share with the mag:
On falling in love: "I'm all-loving. I fall in love with people based on who they are. I never want to love like this [holds her arms out- stretched, as if to envelop]. I always want to love like this. [She thrusts her arms behind her back, pressing her chest forward.] Heart centered, like, 'This is who I am! And I love you if you love me for who this person is. And if not, I'll still love you, but I ain't fallin' in love with you!'"
On what love is: "When you're truly in love, for me, it's…you're my lighthouse! You're somebody who holds me high, keeps me safe, you've got my f*ckin' back…. You also love me whole, wild, and free. You let me do me, and I'm gonna let you do you! And I'll be the home that you return to."
On her family: "I was born into a family of warriors, really strong people…It doesn't mean that it was an easy childhood and we didn't have our sh*t, because every family does behind closed doors. But even though my parents are divorced, they get along. I have a family who every day strives to do the right thing."
For more from Shailene, visit Elle.com.
FYI: Shailene is wearing a Balmain bodysuit.
Like Just Jared Jr. on FB