Wed, 01 April 2015 at 2:30 am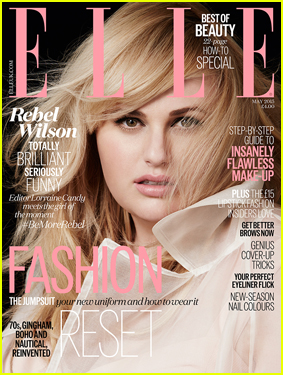 Rebel Wilson is pretty in pink on the cover of Elle UK magazine's May 2015 issue, out on newsstands on Thursday (April 2)!
Here's what the 29-year-old actress had to share with the mag:
On realizing she wanted to become an actress: "I was in Mozambique [on a] trip. I caught malaria and the medicines caused a hallucination. I dreamt I won an Oscar for acting. I know it sounds stupid, but it was so real and I just knew then it would happen. When I came back, everyone was like: 'Rebel, you can't be an actress because you're so smart,' but I was sure."
On keeping fit: "You need to be physically strong for this job. I like to have the stamina to work 16 hours a day. I may eat a lot, but I am very healthy."
On being a woman in Hollywood: "How I see it is, I do two types of job: dream jobs like female-driven comedies and the other job which is basically the boys' club. I have done three big movies with men – these are talented, strong-minded males, but you have to find a way to work that system. You aren't being paid much and you start at a disadvantage with the script. Usually, you don't have any cool jokes and you're there to support the male actor. Those male roles are 90% written and formed by the time the filming starts but the female roles are only 20% there. It's unfair, but I love being funny so I improve the role, work with the limited parameters and opportunities and maximise them. If you are a woman in that situation you work harder, sharpen your skills more; you need to be two or three times as good as the guys. I just go in there and try and crush it."
For more on Rebel, visit Elleuk.com!
Like Just Jared Jr. on FB