Mon, 11 May 2015 at 9:00 am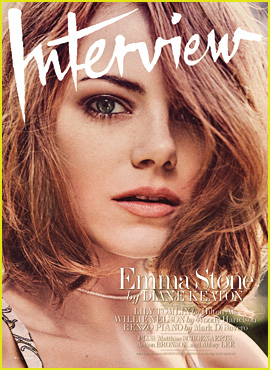 Emma Stone shows off her curly red locks on the gorgeous May 2015 cover of Interview Magazine, on newsstands this week.
The 26-year-old actress was interviewed by her Birdman co-star Micheal Keaton and opened up about her ex Andrew Garfield, and more. Check it:
On her childhood: We did live on the 16th hole of the Camelback golf course. But it once said on Wikipedia that my parents owned the golf course, which could not be further from the truth. But if you're in Arizona, you're at least within a couple miles of, if not on, a golf course.
On what makes her cry: My favorite ending of all time is in City Lights [1931], the Charlie Chaplin movie. I just watch the ending of that movie alone on YouTube and cry. (laughs) I think any even mediocre movie can be saved by a great ending. And vice versa. A great movie with the wrong ending can just tank the whole thing.
On Andrew saying that working with her is "like diving into a thrilling, twisting river": He is such a poet. (laughs) But that's the way he writes in general. So I hear it and of course my heart swells up. And I also know that he writes things like that on a daily basis…What a guy. He is a real Wordsworth.
For more on Emma, visit InterviewMagazine.com.
10+ pics inside of Emma Stone's Interview spread…
Like Just Jared Jr. on FB