Thu, 04 June 2015 at 3:40 pm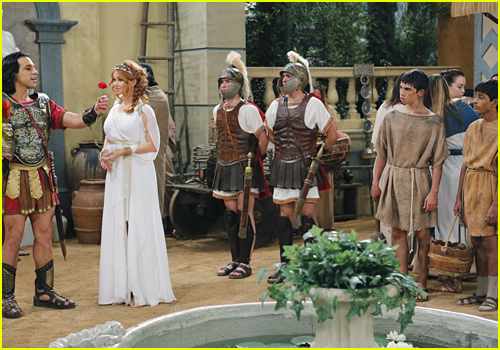 Check out this exclusive, first look at Jessie's "Rossed At Sea" Weekend!
The weekend kicks off with the first part on Friday @ 8PM ET/PT on Disney Channel and JJJ was lucky enough to chat with the cast about their favorite scenes from the three-part special.
"The scene where Emma flies overboard in 'Rossed at Sea, Part 3′ was my favorite scene to film," Peyton List shared with us. "They had to create fake rain and in case I couldn't do my own stunt Shailene Woodley's stunt double from Insurgent was there."
Karan Brar added, "My favorite scene to film was when the storm hits and we all head to the bridge of the ship. The special effects and set really make the whole experience come to life and as an actor it really helps so you can make it more realistic."
When we asked Skai Jackson, she told us, "My favorite scene to film was when Zuri thought the girl we brought aboard on the ship was a mermaid because we found her in the middle of the ocean!"
Cameron Boyce chimed in, "In one of the scenes Luke is fishing, and when he gets a catch the 'fish' pulls him around the boat. Obviously you can't catch much on a sound stage unless you're fishing for cameras. James, our special effects guru, designed a rig to make it look like I was being pulled by what I caught. He attached the line to a car attached to a track. They were able to pull the car right and left manually with special string creating the illusion that I had caught a fish. It's awesome to see the crazy rigs the special effects department creates."
Check out the promo for "Rossed at Sea" below and stay tuned for more pics!

"Rossed At Sea Weekend" Promo
Like Just Jared Jr. on FB