Thu, 04 June 2015 at 8:30 am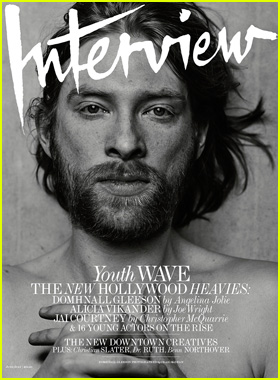 Domhnall Gleeson takes off his shirt for one of three Interview magazine June/July 2015 covers for the "Youth Wave" issue.
The 32-year-old Star Wars: Episode VII – The Force Awakens actor was named the "New Hollywood Heavies" alongside The Danish Girl's Alicia Vikander and Suicide Squad's Jai Courtney.
Here's what Domhnall shared with his Unbroken director Angelina Jolie:
AJ: So, can I ask if you enjoyed working on the film that cannot be mentioned?
DG:: On Star Wars? I did. I enjoyed it for the reasons that you enjoy any film, that people were together, and that it was actually challenging. I like a challenge. I was more of an Indiana Jones kid than a Star Wars kid.
AJ: I'm personally a Boba Fett fan.
DG: Well, you make a phone call and I'm pretty sure, Angie, that they'll have you in, in a second.
AJ: You still won't be cool to your children no matter what you do. But the Star Wars movies always have these beautiful messages and they are quite profound. And you will have this thing where, wherever you go in the world, you will be an artist and familiar to them.
DG: Unless you're terrible in the movie and they hate you.
AJ: That should be your worry. [laughs]
For more on Domhnall, Alicia, and Jai, visit InterviewMagazine.com.
10+ pics inside from the issue…
Like Just Jared Jr. on FB